ABOUT THE AWARD
The first annual Space Coast Runners Club "Golden Shoe" award was presented at the May 19, 1991 Awards Banquet. The idea for this award is actually a spin off from Runners World Magazine, proposed by Marty Winkel. The intent is to recognize an individual for the work they have done in support of the running community. A tentative guideline was proposed for selecting future recipients of the award:
An individual may only win the award one time

Any member of SCR may submit a candidate along with written rationale

Previous recipients will sit in committee to review and select the winner

A candidate does not need to be a member of Space Coast Runners
THE GOLDEN SHOE AWARD RECIPIENTS

(click on recipient's name to jump to their nomination)
---
2023
Nominated by Brittany Streufert
In the SCR running world, the Golden Shoe Award ranks among one of the highest honors someone can receive. The award recognizes an individual for the work they have done in the running community. I can think of no other more deserving candidate than our former club president.
Debbie Wells is a long standing member of Space Coast Runners, a great supporter of runners and a very hard worker who is and has been dedicated to growing and nurturing the Brevard County running community. Debbie joined the SCR Board of Directors in 2018 and quickly found her voice. She was an advocate of runner safety, promoted running throughout the community with her work as race director of the Running on Island Time 5K and later the Cocoa Beach 2 Mile and by taking on club leadership in a very unexpected fashion and running with it over the next four years.
At the beginning of the 2019 term, the presidency was vacated along with the secretary seat and one director seat. Debbie stepped up to the plate to fill the President's position and it truly became a huge win for the club. Debbie didn't just coast as President, she put forth a ton of initiatives and challenges to the BOD to grow, expand and really serve the club members. And then, Covid-19 hit which stopped a lot of things and SCR saw its membership numbers dip to the lowest they had been in over five years.
Debbie worked hard to keep things going for SCR. When deemed safe the club was one of the first group runs back out there on Sundays. Debbie worked with Paul Boucher to design a hands-free attachment that would allow runners to get water or Gatorade from the coolers to help lessen the spread of the virus. Nobody asked Debbie to do that…she just did.
Under Debbie's presidency the SCR Scholarship was renamed as the SCR Christian Lake Memorial Scholarship Fund. Debbie helped establish a new Board for the scholarship fund and she wrote the by-laws. The scholarship fund has grown immensely over the past 3 years.
During her time on the Board, Debbie advocated for diversity and inclusion. She wanted SCR to touch as many lives as possible in promoting a healthy lifestyle. When the club packed at the Children's Hunger Project, Debbie was a volunteer. She led the marathon cleanup when no one else would step up to the plate. She was flexible, willing to adapt to change and the club bounced back after the pandemic. Our membership numbers went up even higher than pre-Covid.
Debbie's dedication and passion for running make her a perfect candidate for the Golden Shoe Award. Below are some of Debbie's notable contributions.
Race Director & Founding Member of the Running on Island Time 5K in Merritt Island

Team Captain (2019) of the SCR Racing Team and member from 2016 – 2022

Space Coast Runners Board Member 2018 – 2019

Space Coast Runners President 2019 – 2022

Space Coast Marathon Clean Up Lead

SCR Volunteer of the Year 2017

SCR Hydration Crew Member

2020 SCR Spring Training Camp Pacer
She is an accomplished runner of all distances from the mile to ultra running.
---
2022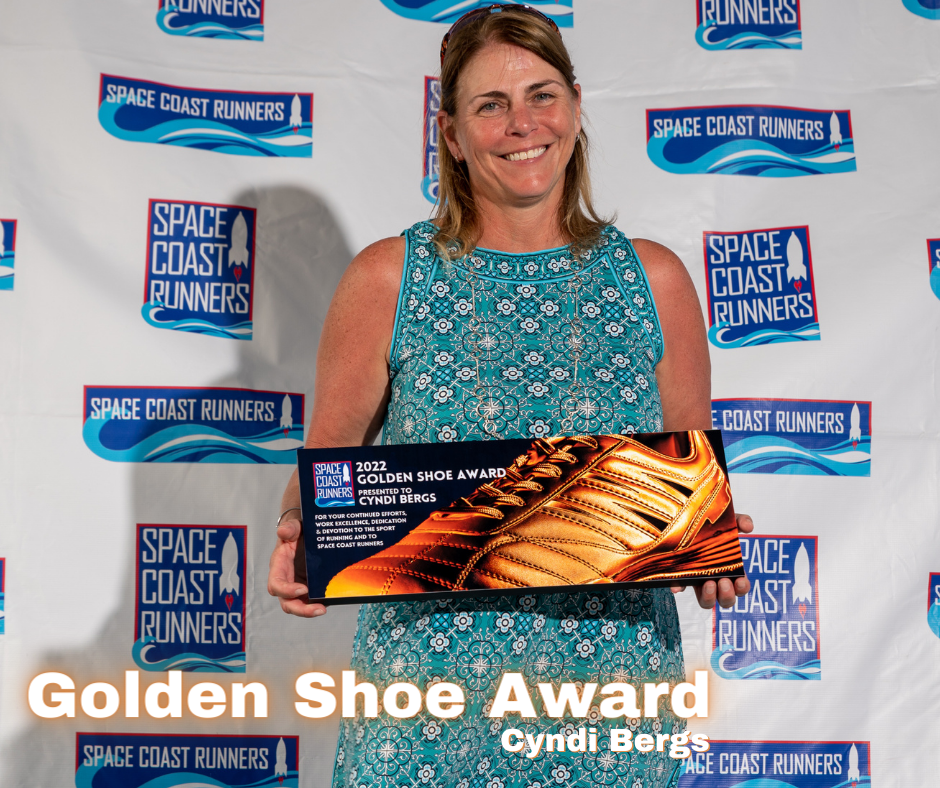 Nominated by Debbie Wells:
Cyndi Bergs has been leading the Sunday water crew for many years. Not only does she know how to mix a mean cooler of Gatorade but she collects volunteer availability each month and juggles the assignments to be sure everything and every weekend is covered. Tonight, I would like to recognize Cyndi on behalf of all our SCR Runners and Walkers who rely on this support every Sunday.
In addition, Cyndi has been committed to assisting at the Space Coast Marathon & Half Marathon year after year. Many of you might recognize Cyndi when you cross the finish line as she has spent hours at the finish coordinating the distribution of the marathon medals and handing them out on race day.
Cyndi has been an active member of the club having served on the SCR Board of Directors for many years as well as holding the position of Club President from 2009 to 2010. She was the race director of the Space Coast Classic when it ran through Windover Farms and has always selflessly contributed to the club when asked.
Her dedication to the SCR Water Stops on River Road, to the Space Coast Marathon & Half Marathon event, and to our club members is recognized tonight for its steadfastness.
---
2021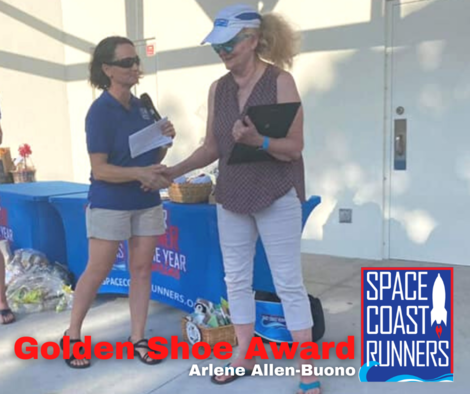 Nominated by Jodi Noe:
I would like to nominate Arlene Allen Buono for the Golden Shoe award. Arlene has been an active member of the Brevard running community since 2002. She proudly represents Space Coast Runners and has been a member for many years. She is one of the most supportive people for all runners, especially women, that I know. She loves to encourage women runners of all ages to maximize their potential. Arlene has been a runner since 1970. She keeps active and supports the Brevard community by running in two separate race series. She also motivates and encourages runners to expand their running challenges by participating in races throughout Florida.
Arlene became aware as she participated and talked with other female runners that there was a real need for a tool that could help females of all ages gain confidence to run or walk. She realized when women ran together they not only had fun but felt good about themselves and better about their running abilities. Thus the Space Coast Sole Sisters was born in May 2019. The group began with only 10 members! Through Arlene's efforts, it has grown into an amazing support group with a current membership of 283 people and 4 administrators. Arlene works tirelessly to ensure all members find others to run with throughout the county. She creates events within the group structured for all running levels. She encourages other members to also create local events which will be inspirational and reach out to all female runners.
Arlene stays current about other events within the Brevard running community and ensures that information is available to boost support for those events. For example, many of the sole sisters joined the SCR New Wave running camp because of Arlene's enthusiastic recounting of her experiences and overall success as a member of the camp. Not only does Arlene encourage running support among the sole sisters, she advocates that we support each other not only during our good times but more importantly during our difficult times. I feel that Arlene would be a more than worthy recipient of the Golden Shoe award.
She has touched so many ladies with her encouragement, support, kindness and love! I can think of no better person to carry the honor that is associated with the Golden Shoe Award.
2019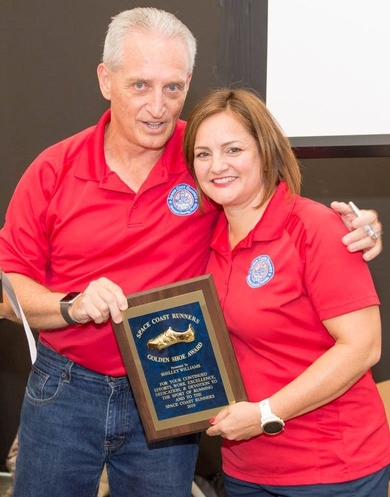 Nominated by Bob Rall:
One of the cool things about being Presicent is that I get to choose the winner of the Golden Shoe award. The Golden Shoe is presented to a member of the Club who has gone above and beyond.
The winner of the Golden Shoe is one of the hardest working ladies I know. Over the last year or so, she's become a fixture on the SCR Racing Team. Despite a heavy travel schedule with work, she usually showed up early and helped get the SCR tent set up.
She also served as a Board member for the last couple of years and this year she spearheaded a couple of very important projects which include the Strategic Planning project and the Race Series Committee. The Strategic Planning project saw about a dozen members get together several times to brainstorm and come up with ideas on how to make the club better for you, the members.
The SCR Race Series Committee was one I wanted no part of, but Shelley took it on headfirst. She formed a committee of Board members, Race Directors, and some outspoken club members to come up with the races for the 2019-2020 racing season. Tough process as it's hard to make everyone happy. Based on some of the comments we've heard....not everyone is happy, but I really like the new series and the different distances, locations and challenges that it will bring. Shelley brought it all together, presented to the Board for discussion and a vote.
But the thing I'm most excited about is that despite all the work she has put in over the last year, Shelley showed that she is a glutton for punishment, or more accurately, she showed how much this club means to her. She has stepped up to be the incoming President of Space Coast Runners for the next year. It is my privilege and honor to introduce the winner of this year's Golden Shoe award to President-elect, Shelley Williams.
---
2018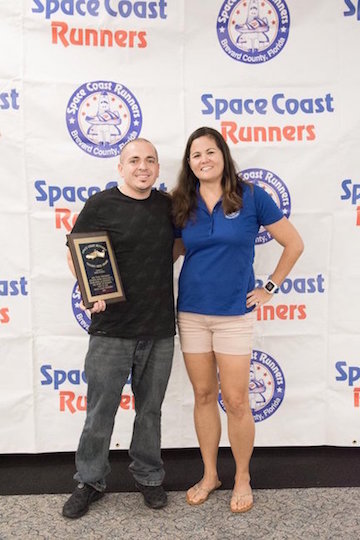 From Lisa Hamelin:
I would like to nominate Mike Acosta for the Space Coast Runners Golden Shoe Award.
Positive influence to the running community? Check.
Contributions to the running community? Check.
Overall super nice guy? Check.
For those that don't know, Mike co-founded Viera Pizza in 2004. He sponsors tons of local races through Viera Pizza (SCR series, Up & Running races, Thinga-Ma_Jogger 5K, Excalibur 10 Miler…just to name a few).
He also co-founded Power of Pizza Charities in 2016, which produces the Eat My Crust 5K and Run Run Santa 1 Mile, as well as event managing the Space Coast Classic and Eye of the Dragon.
Power of Pizza Charities/Viera Pizza has donated more than $127,000 to the Brevard County Community, which has included Viera High School Athletics, Special Olympics of Brevard County, Early Steps program and Calvary Chapel's 412 Youth Missions Outreach.
Mike is a family man – husband with 3 young children, a business man – co-owner of a successful pizza joint, a community-minded man – Power of Pizza and donates a lot of his time and services to various organizations.
He is a five time Fastest CEO Award winner at the Florida Today Corporate 5K, which he runs with his co-workers.
He was inducted into the inaugural Viera High School Athletic Hall of Fame in 2017 as an outstanding community supporter.
He heads up the Viera Pizza Race Team, whom more often than not, make it to the podium at various races.
Mike is a Space Coast Runners member and is always promoting the organization. He has video running at Viera Pizza, along with signage for SCR.
Mike is always the first one to help out – an example was last year's Christian Lake Memorial Run. Mike was able to secure food donations from local businesses and bring his crew to help make this tribute run to Christian a positive one for the Lake family.
Mike is truly deserving of this award. We thank him for his continued service and positive efforts that goes towards the running community.
2017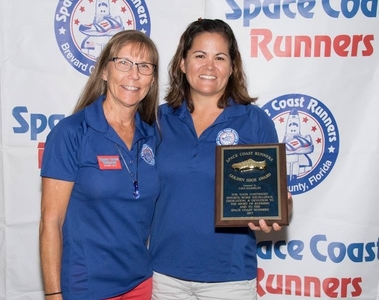 This nomination for the 2017 Golden Shoe Award is long overdue. Lisa Hamelin has been actively volunteering with Space Coast Runners in a variety of capacities for several years. In spite of a full personal and professional life, Lisa continually volunteers for Space Coast Runners – and in a big way.
From Barbara Linton:
When I think of someone who dives in and embraces new things, I think of Lisa. Years ago, she was roped into trying running by her officemates (the team formerly known as the InfoWenches). Lisa soon became an active participant herself and went on to run her first marathon in 2013. She has also done numerous ½ marathons, as well as triathlons, so we can safely say that she is well and truly hooked.
But more than what Lisa has personally accomplished is what she has done for the running community. She has been the driving force behind fund raisers for runners in need, celebratory gatherings after runs and has been a wonderful training companion and smiling face on the road for many of us in Space Coast Runners. Her contributions to the club are too many to list but they include volunteering at MANY local races, directing the Space Coast Classic 15k and 2 miler for the past few years, acting as Editor of the newsletter and serving on the board of directors as Secretary. She is always working to infuse new ideas into the club and make it the best; a measure of her success is that the SCR Newsletter was voted best in the country at the 2015 RRCA convention.
Lisa deserves the Golden Shoe award for her contributions to the club in general and for her many quiet kindnesses and generosity to individual members. She is truly a gift to SCR.
From Brittany Streufert:
I'm proud to endorse the nomination of Lisa Hamelin for this year's Golden Shoe Award. As a member of SCR, Lisa has long exemplified an awesome level of commitment to the club, its newsletter and the Space Coast Classic. She clearly recognizes the impact running has made in her life and has made it her mission to "give back" to SCR and the running community.
How does she give back? The list is long. During her tenure on the newsletter staff she helped to redesign the publication which in turn won the RRCA eNewsletter of the Year in 2015. When the editor's position became available, she stepped up to the plate. Likewise when the Space Coast Classic 15K needed a race director in 2013, once again Lisa volunteered to takeover. She became a member of the SCR board in 2014 and now holds the position of Secretary on the Executive Board. And she's a wife, mother of three kids and holds a full-time job.
Her enthusiasm motivates others around her to help and I've seen it firsthand. Her commitment is real and has been a positive, important factor in SCR's successes. Our running club needs more volunteers like Lisa Hamelin.
I am happy to present the 2016-2017 Space Coast Runners Golden Shoe Award to our new SCR President, Lisa Hamelin!
---
2016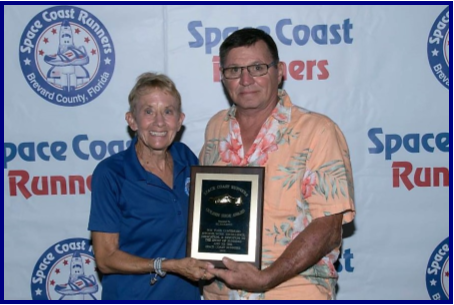 It is said that "Volunteers don't get paid, not because they're worthless, but because they're priceless." Some volunteers can also be timeless, which is true of this year's Golden Show Award winner. Richard Koontz, better know to the club as "RC", is just one such person.
RC started running in 1978 and progressed to triathlon a year later. His extensive running and triathlon accomplishments, including finishing every Disney Marathon, are a subject for another time. As a member of the Chattahoochee Roadrunners Club, he learned about Space Coast Runners and the Melbourne Marathon from his coach, Roy Bensen. When RC and his wife, Susie move to Brevard County in 1989, they met Harold Tucker and became Space Coast Runenrs.
Dick White, a SCR past-president who nominated RC relayed how meeting him was not only an enriching friendship but how much it means to our club. "We had the good fortune to meet RC and Susie when we moved to Brevard County twenty years ago. Our friendship over the years has provided ample opportunities to witness RC's generous and giving nature. Yet, his unpretentious manner often causes his contributions to go unnoticed. He has given his time and energy to Space Coast Runners consistently for over 25 years.
When we took over the directorship of the Eye of the Dragon in 2004 and for the following 10 years, our good friend was called on to haul water, tables, and race supplies because he was the only one of us with a pickup truck. He helped with setup at the race site, and did the same for Kathy Ojeda for the years she directed the Space Coast Classic. Additionally, RC could be found before the races cutting up oranges and setting out the food display, and cleaning up afterward. He has since continued to volunteer in this capacity at the Eye of the Dragon."
An avid cook in his own home, RC shares his culinary skills every New Year's morning at the Cherie Down Park fun run. For 15 years, Chef Boy RC has served up scrambled eggs, Canadian bacon, and coffee for the runners and walkers ushering in the New Year, prior to his polar bear dip in the ocean.
If you run at River Road on Sunday mornings, you can thank RC for being one of the regulars who puts out the water and Gatorade each week. For the past two years, he has been mixing Gatorade and loading his truck before most of us are even up, to make sure that the first wave of runners have fluids when they hit the 2 mile mark.
On a more personal note, RC's volunteering extended to pinch hitting as a babysitter. When our daughter, Rachel, was a toddler, he frequently minded her at the races while Mom competed in the SCR series. If you ask him to do anything, RC will do it. He is unassuming, jovial, and always has a quick quip.
Space Coast Runners is fortunate in having such an individual as a club member and friend to all.
---
2015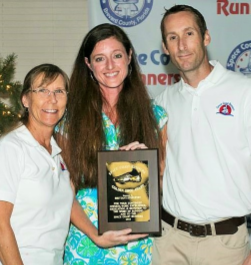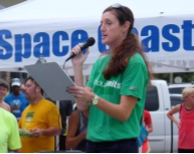 The SCR guideline for the Golden Shoe Award is that the individual has a positive influence on the sport of running based on his/her contributions to the community. I believe that the guideline could go one step further and state that the nominee should be a person who gives their time selflessly and without request.
This nominee certainly fulfills that guideline. I have not known this person for a very long time, but I knew the moment I first sat and talked with her at the Special Olympics Appreciation picnic 3 years ago that she was a gem! Brittany Streufert is a gracious and thoughtful person who makes things happen. She has been directing, along with Mike Acosta, the Eat My Crust 5K for 4 years. This race has been a huge success story, largely because of Brittany's marketing and organizational skills. Her determination has made it an event and not just another 5K!
What has most impressed me about Brittany is her earnest and unsolicited desire to help Space Coast Runners be the Club that we all want it to be. In the last 2 years, Brittany has volunteered and has been working tirelessly behind the scenes on the SCR Newsletter as Design Director – first under Editor Bob Rall, and now Lisa Hamelin. As I am sure they can both attest – Brittany does much more than design! Bob, Lisa, and Brittany all worked hard to put together a great newsletter – worthy of the RRCA National E-Newsletter Award this past year! In addition, Brittany's social media expertise keeps our club active in the cyber world – a must in today's society.
Brittany devotes time to attend most SCR Board Meetings, to help gather information to broadcast in the newsletter and social media. When I was going to be gone for 9 months last year and needed volunteers to take over some of the things I had been doing, Brittany stepped right up to the task.
Brittany has also been a pivotal leader in the club's volunteer and SCM obligations. Her scheduling and organization skills helped ensure the post marathon trash pickup was executed efficiently and effectively.
Brittany continues to come up with fun and creative ways to give back to our members and engage all runners in the Club. She has fun ideas and is not afraid to work hard to get the ball rolling. What is so great about Brittany is that you don't have to ask for her help, she offers it time and again.
The club continually benefits from Britany's ingenuity and efforts. Tonight's Awards event is a direct result of her hard work and dedication as she volunteered countless hours in the planning, formatting and execution of the event. Brittany is definitely deserving of the 2015 Golden Shoe Award.
---
2014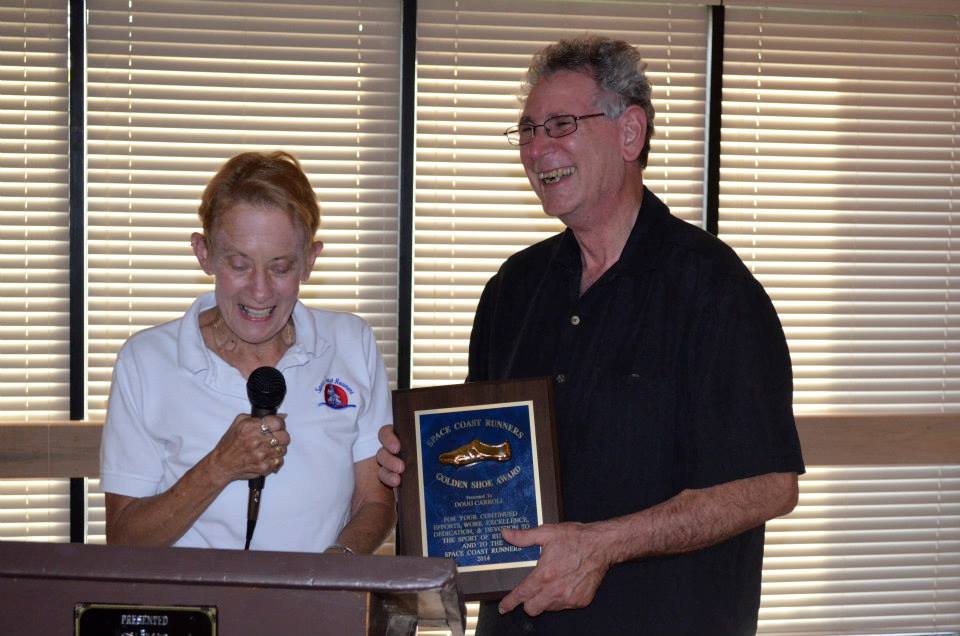 Doug Carroll was nominated for the 2014 SCR Golden Shoe Award for many reasons. As many can attest, Doug has become a staple at at most races in Brevard County.
He truly has a passion for photography and we are so fortunate to have him be especially interested in race photography. He gets out there early in the morning on most weekends so that he can take event photos. He then will touch up the photos, which are typically in the couple hundreds upwards to a thousand images, and then take the time to upload them to Facebook and tag many of them. This is not a paid job for him, he does it because he enjoys it and has developed good friendships from being at races.
Doug's contributions to our running community are so big and selfless, that it is only fitting that we award him with the Golden Shoe. He enhances our races by providing the participants with great memories that they might not have otherwise been able to capture. Thank you Doug!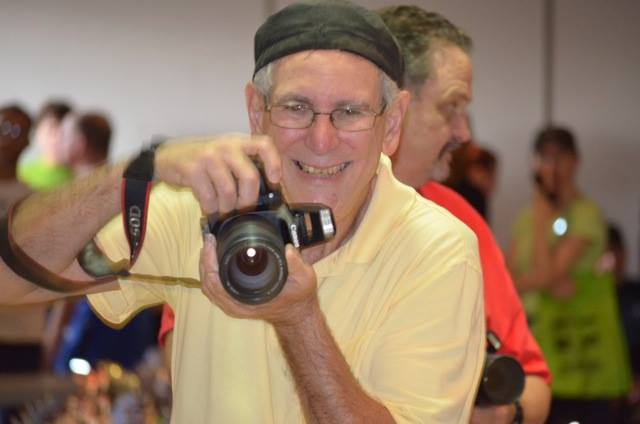 ---
2013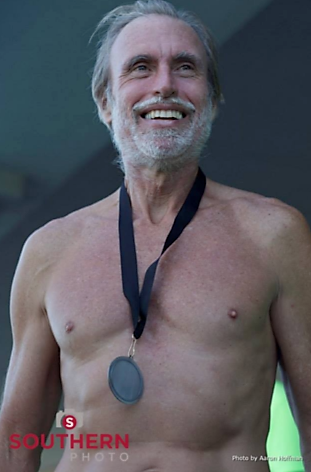 If you are a Space Coast Runner as I am and love to run SCR races, then what do you do when you get home from a race? You turn on your computer. That's right; you go to the SCR's home page and race results. I always want to see how my fellow Space Coast Runners did and how my race time compares to others in my age group and other age groups. I also go to the race calendar and see when and where I'll be heading for the next race.
Thanks to our Golden Shoe Award winner, all of that information is input and posted in a very timely manner. That and additional fun and interesting comments about the race. Such as, "I went the wrong way and ran nearly an extra half mile......" Often the race course is also posted with the results.
Come on up here Matt, you are the winner! I also want to thank Bob Rall for helping me with the following information.
I want to tell you a little bit about Matt. He has been handling the race results and calendar since the late 1990's. Before the internet, Matt maintained the member database on a floppy disk and printed the mailing labels with an old fashioned dot matrix printer using some DOS software he wrote himself. Computers and printers have come a very long way in a very short time.
Matt has been a member of Space Coast Runners since the late 1980's and running since 1985 when he was 30. From 1990 through April 2013, he has run 22,618 miles! In the same period he has run 1209 races. If you don't see Matt at a local race, he is usually running Hardrock, Barkley and Nolan's 14. Matt's favorite SCR race is our very own marathon.
Matt would like to see Space Coast Runners organize more races or group runs. I get tired just thinking about doing more.....not Matt. Matt always has a smile and an encouraging word for all and everyone knows that he enjoys all that goes into running and racing.
Matt, Space Coast Runners really appreciates all that you have done over the years and look forward to many more years! THANK YOU MATT, YOU ARE A REAL WINNER!
---
2013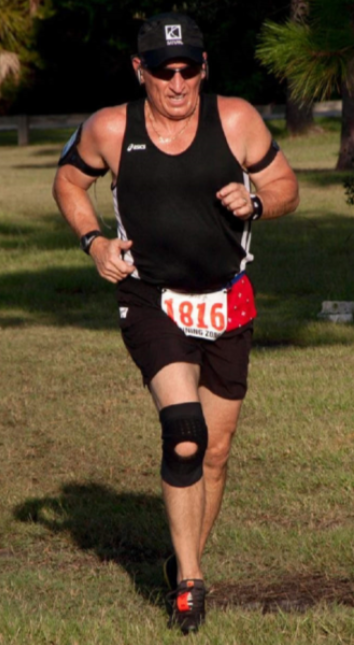 Do you know who "WON" a Golden Shoe for 2013? If you say Matt Mahoney you would only be partially correct. I always enjoy watching the face of the recipient when his or her name is announced. It's always the same look, "who me?" Please look at Bob Rall as we announce him as one of the Golden Shoe Award recipients for 2013.
Including Bob, our last three SCR Newsletter editors, all Golden Shoe recipients, Ken Winn and Patty Sponsler, have made tremendous enhancements to our Newsletter. For what I think is obvious reasons, the Newsletter Editor is one of the hardest positions to fill within the SCR. The editor has to be creative, artistic, accurate, articulate, timely, exhibit good people skills, and be willing to work 20 plus hours a month.
Bob has been an SCR member since 2008, the Newsletter editor since 2010 and an SCR Board member since 2012. When Bob is not racing you'll usually find him behind a camera taking photos and gathering information for the newsletter with his co-editors. Bob is also very big into social media. As one of the founding members of Get Social Brevard – he shamelessly promotes running throughout his various social media means—Facebook, Twitter, LinkedIn, Google+ etc. Bob, with his wife Gina, were Team in Training coaches from 2005-2008 where he met his close group of running friends affectionately known as Team Black Sheep (TBS) --almost all are now Space Coast Runners members —you'll see the Sheep throughout the community in their bright TBS shirts.
In 2007 Bob began working with Special Olympics Brevard Track & Field after reading about them needing volunteers in Runner's World magazine. There was an article about ways to make a difference with running and he started right away. Bob, his family and a small group of friends began showing up at the Special Olympic practices on Saturdays in Rockledge and have been hooked ever since. Bob has organized the SO athletes & families to volunteer at SCR race water stops (Eye of Dragon/Space Walk of Fame) and is on his 7th year of coaching these special individuals. Bob also plays on a Unified Softball team with the athletes (going on 3 years).
A member of the 50 States Marathon Club (a partial knee replacement has stopped the progress of states at 20), Bob hopes to be able to heal up soon and run some shorter distances (don't tell his doctor). He is currently adding cycling to his exercise repertoire. It is with great respect for everything Bob has done and continues to do in support of ALL runners along the Space Coast, that I nominate him as a 2013 Golden Shoe recipient.
---
2012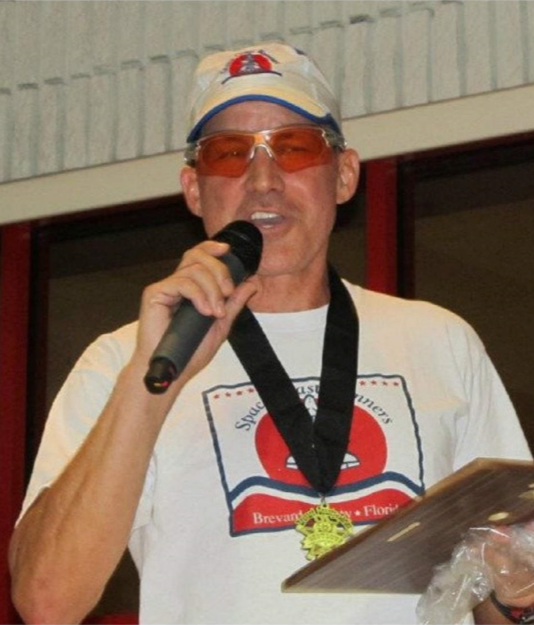 Most of us have heard that behind every successful man there is a woman… Well, sometimes, behind a successful woman there is a man. This is the case for this year's Golden Shoe recipient, Dick White.
Marlene White was the 2004 Golden Shoe recipient. It was tempting to just copy Marlene's Golden Shoe write-up and make some minor changes since Dick was at her side the entire way. Whatever race Marlene directed or supported, Dick was supporting her and those same races. He was her right hand man for months prior to the races she directed. Dick would do everything a race director would do including distribution of race posters and flyers throughout the county, and one of the hardest jobs a race has to do, getting sponsors such as Mattress Barn and others. Dick was also the main clean-up person at all of these races, taking down the course (mile markers, turn arrows and cones). This also included taking down the water stations (tables, coolers, washing out the coolers, cups, trash and trash and trash)
Race day morning's Dick was responsible for course and water station set up as well as water station volunteer coordination. He did this for the Eye of the Dragon for 9 years, Space Coast Classic for 5 years, Freedom 7 races for 5 years and Space Coast Art Festival Turkey Trot for 5 years. Dick was also a cash sponsor for Eye of the Dragon, Space Coast Art Festival Turkey Trot, Freedom 7 and the Cocoa Beach Jr. and Sr. High School Cross Country team.
When we (Space Coast Runners Club) did the timing of races, Dick delivered equipment to many of our races as well as supporting the timing.
Dick has also supported the SCR and Melbourne Beach Expo's and I don't know how many times he has supported the Space Coast Runners information table at races throughout the county.
Dick is currently starting his 4th year as a Space Coast Board member. He continues as a volunteer at many of our races, as a sponsor as well as supporting one of our more talented race directors. For these reason and the countless other items inadvertently omitted from this Nomination, Dick White is being recognized and is most deserving of the 2011/2012 Golden Shoe Award.
---
2011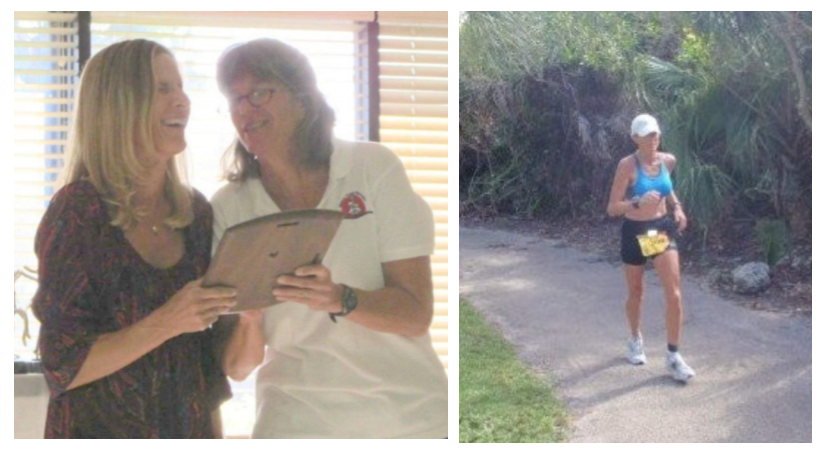 Linda Cowart was awarded the 2011 Space Coast Runners Golden Shoe Award at last month's Awards Dinner Meeting. Linda has been a longtime member and friend of SCR. I'm sure you'll agree that Linda is a worthy recipient of this year's award. Congratulations Linda!
---
2010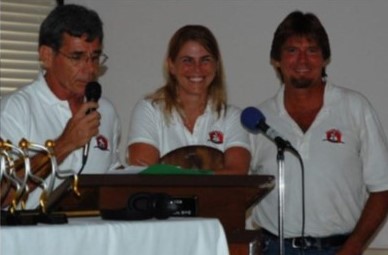 I believe we started awarding the Golden Shoe in 1991. The purpose of the Golden Shoe was to allow the Space Coast Runners Club to give annual recognition to an individual who has demonstrated over a sustained period of time his or her dedication to the sport of running along the space coast. The award has nothing to do with an individual's running accomplishments.
The following are the previous Golden Shoe Recipients in the order that they were recognized: Gary Harbison (1991), Harold Tucker (1992), Rhonda Butler and Marty Winkel (1993), Bill Dillard (1994), George Revels (1995), Henry Campbell (1996),Terry Hayden (1997), Dave Farrall (1998), Ken Winn (1999), John Chioma (2000), Linda Thompson (2001), Barry Jones (2002), Marlene White (2003), Ross Clarico (2004), Gene Ramba (2005), Patti Sponsler (2006), Loran Serwin (2007), Barbara Linton (2008), and Carol Ball (2009). Like everyone just mentioned, this year's recipient needs no introduction.
Over the past few years, he (that was hint #1) is frequently seen at the finish line (hint #2) at many of the races in Brevard County doing the timing (hint #3). If you get to the race early enough you will see him delivering the equipment (hint #4) regardless if he is timing or not. Obviously, he is the one to return the equipment after the race. I would hope everyone would also know that he is an SCR Board member (hint #5) and has been one for years.
Everyone should know by now that we are talking about Dave Hernandez. What I'm sure most people do not know is that Dave is usually the first one to volunteer to do timing and bring the equipment. There have been several occasions when we struggled to find someone to do the timing and a vast majority of the time it was Dave who said he would do it. From personal experience, just this year, you've bailed me out when a race I was scheduled to do the timing moved their race to coincide with another race I was timing that day. Dave volunteered to do the timing of one of the races.
I think everyone here owes Dave Hernandez a minimum of a round of applause and a great big "Thank You, Dave" for doing all that you do for us.
---
2009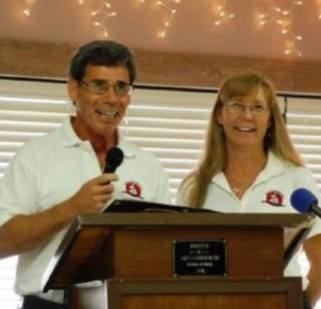 The Golden Shoe award is presented annually to recognize one individual who has demonstrated a sustained, long term commitment to the runners along the Space Coast. It was a no-brainer as far as awarding Carol Ball the Golden Shoe. Over the years, she has served as a board member and secretary to Space Coast Runners and, for the past three years, has guided the club under her presidency. What is truly amazing is that more than three years ago, Carol had to give up the sport because of acute osteoarthritis to the knees. In spite of the fact, her passion to support the running community has continued and here are just a few of her many and significant contributions:
Initiated the Youth Series in 2002.

Built a Space Coast Runners presence with the Road Runner Club of America.

Backed the newsletter editor to take the newsletter from print to electronic, resulting in significant cost savings that are being put back into member amenities.

Coordinated a formal contract with Running Zone to manage the Space Coast Marathon and continues to head up a committee of Board members who work with Running Zone in planning and volunteer efforts.

Initiated the summer training seminars to help race directors improve race quality.

Implemented the walking portion of our fun runs and walks.

Clean-up, ongoing refurbishment and organization of club equipment and shed.
There are also certain actions and responsibilities that come with the SCR presidency that can take multiple amounts of time. Carol did it all with a cheerful willingness including:
Responding to all questions, suggestions and sometimes even complaints from both SCR members and non-members.

Acting as point of contact between race directors and SCR, including Running Zone and the Space Coast Marathon.

Developing the agenda for and leading the monthly meeting of Board of Directors and Officers.

Leading the Youth Scholarship effort.

Setting up and cleaning up at races and events.
We have benefited tremendously from her commitment to, and support of, the running community along the Space Coast. For everything she has done for us, the Space Coast Runners Club recognizes and awards Carol Ball the Golden Shoe Award for 2009.
---
2008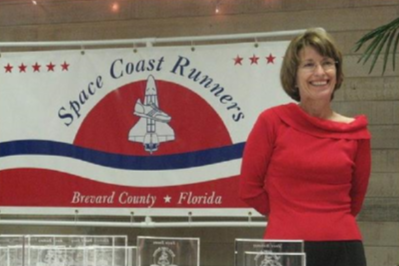 This candidate for the Golden Shoe Award is known by many but her contributions to the running community are often behindthe-scenes, so less well-known. Barbara Linton has contributed countless hours and resources to local races for many years.
Barbara is most recognized for managing the Candlelighters' Run for the Light. She has managed this race for years. Passionate about the cause the race benefits, she has continued to manage it year after year, in spite of the hundreds of hours required to manage a good race. As if one race wasn't enough, when a new race director for the Cocoa Beach Art Festival Turkey Trot was needed, Barbara stepped up to the task. Twice as large as the Run for the Light and having to work with a committee of non-runners, this race provides its own challenges.
Not only does she give back to the running community by directing her own races, but assists countless others. Space Coast Runners is indebted to Barbara for assisting with the 15k, Eye of the Dragon, and Marathon/Half-Marathon over the span of many years. In the past 6 years, she has been a cash sponsor of SCR races on 8 separate occasions. For many years, she took on the responsibility for coordinating and procuring all the food needed for the races, and continues to do so for the Eye of the Dragon. Not only does she pursue donations from local vendors, but she purchases food directly at her expense and bakes on her own, as her contribution to the race.
Barbara's race management skills go beyond supporting runners directly and have reached into the high schools. She has mentored her own two children in managing races for their community service projects. She is now pursuing plans to do the same with high school students from Cocoa Beach High to help them with their projects in conjunction with the Turkey Trot. She has a wealth of experience to share with these young people.
Barbara is always there to lend a hand – before, during, and after a race.
---
2007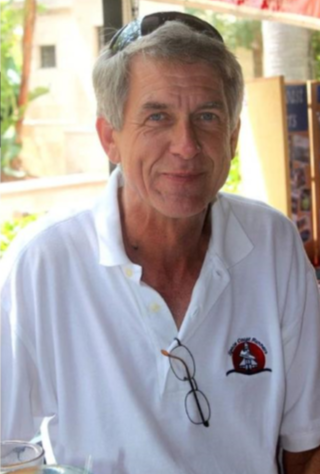 This month marks the completion of my first year as President of Space Coast Runners. I could not have accomplished this without the hard work and dedication of the Officers and the Board of Directors. However, one person stands out when I think of all the help I have been given. This person has not been a member for a great many years, and actually has only been a competitive runner for less than 5 years. He has competed in the Track Shack Race Series, the Space Coast Runners Race Series, the Titusville Race Series, and the Running Zone Race Series, placing in all of them! I remember the first SCR meeting in July 2004 that he attended and I noticed he readily offered his assistance. In fact, this individual became a Board Member at the very next meeting. Before we knew it, he had taken on the responsibilities of the ROY Series. He updated a hand written system into an electronic format and spends a great deal of time constantly fine tuning and updating his system for accuracy.
In April of 2006, he took over as Membership Chair, keeping record of membership expirations, reporting new members monthly to Patti Sponsler for the newsletter, and developing a new membership brochure. This year, he also took on the Titusville Race Series age graded computations for Marty Winkel. This person helps maintain our Race Equipment and storage shed. When our old one fell apart this year, he took on the challenge of building a new finish line system. He helps with timing and equipment set up at many races. He often leads the children at our Youth Series Runs, after he has run his own race.
He has served on many committees, including the SC Marathon Committee, ROY Awards (selection and ordering all the awards), Hall of Fame, RD Seminar Committee, and more. He has not missed a single Board meeting all year. All these things he does for SCR. But, for me, he has been my right hand. He is my sounding board for all SCR issues, big and small. He proofreads my columns. He is my delivery person. He encourages me and assures me when I am not sure I am doing the right things for the club. And the really great thing is, I never have to ask. For these and many other reasons, I am proud to award the 2007 Golden Shoe to Mr. Loran Serwin.
---
2006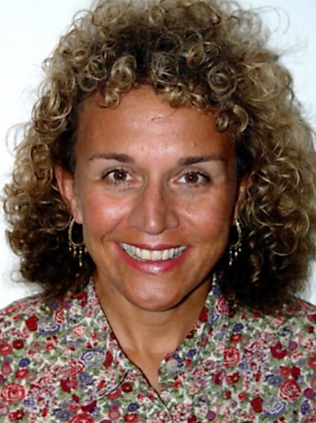 When Mary called me last month and asked me to write something to commemorate Patti's receiving the Golden Shoe, it marked both an end and a new beginning. After all, it was Mary who I called in 2002, inquiring if she knew of anyone in the Central part of the county, specifically Cocoa Beach, who might be interested in writing about running. And it was Mary who suggested Patti given Patti's experience on the SCR newsletter.
Now, here we are in 2006 celebrating the accomplishments of Patti Sponsler and at the same time wondering just what heights a writer of her talent and verve and curiosity is capable of. To say Patti has developed into one of our most accomplished and creative and dependable and readable contributors is an understatement. I have seen her talent, which was obvious in the superb job she did on one of her first pieces, the aborted Ironman Utah, flourish through a lot of hard work and dedication and just a dash of stubbornness and willingness to stand up for what she believed in. This talent, otherwise known as ego among those who abuse it, is necessary and good in a writer.
And Patti, is above all, a writer. Her curiosity is endless as is her sense of wonder and respect for the accomplishments of the people she covers. She also is willing to explore the depths of the human spirit which is something all athletes are all too familiar with. And when she does plumb those depths she has a unique talent in bringing the human side to the forefront to the benefit of all.
All that being said, it has been and will continue to be my pleasure to be her editor and to be able to assist in telling her story of success. Good work Patti!
Submitted by Mark DeCotis
---
2005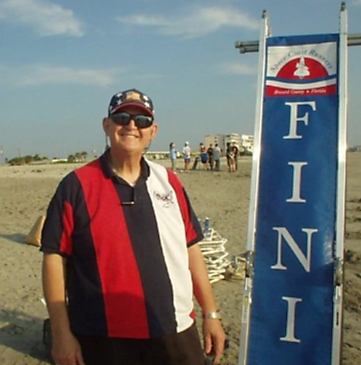 In a sport fraught with competition, achievement, and yes, an occasional large ego, it is rare to meet a man who works so hard and cares so little about receiving recognition. Race after race, year after year, this year's Golden Shoe winner, Gene Ramba, has quietly gone about the business of making sure equipment is delivered, runners are safe and results are recorded accurately. The "Golden Shoe" is awarded annually to recognize, commend and publicly thank an individual for his or her continued commitment and contribution to the sport of running and to the runners of the Space Coast.
While the other and few hard-core volunteers occasionally race themselves, Ramba doesn't run. "I think I am the first non-runner to receive this award," he joked. "When I was in the Navy we had to run a mile-and-a-half four times a year. When I got out I said "that's it." Ramba began volunteering in the running community when his wife, Mary, decided to run her first marathon. "When Mary was training to run for leukemia at Disney, I figured I needed to do something to help her achieve her pretty heroic goal," he said. "I began volunteering to help runners there."
Some of the many tasks that Gene Ramba has done over the years include:
The first person to shoot digital race shots for club use.

Moving, setting up and taking down race equipment.

Storing the equipment in the Ramba backyard when SCR was between storage units.

Timing and handing out medals.

Jack-of-all-trades.
When someone asks for help, Ramba is on it. Ramba soaks in the race environment. "I like the camaraderie and meeting people," he said. "I really like seeing others do well and achieve their goals. I bathe in the glory of those doing their thing and associating with those who are energetic." Ramba's volunteerism doesn't stop with the running community. He literally provides the tools of life for those who are gravely ill. "I go to the blood bank every two weeks," he said. "They take my blood and suck out the platelets for patients fighting cancer, heart disease or immune system deficiencies. I am approaching the thirty gallon mark."
Ramba considers it an honor to donate. "I consider myself fortunate that I can produce enough to donate every two weeks," he said. "In the blood bank I never see the people who get my platelets. You never know who you are helping. It could be your neighbor or someone across the state."
It is the sense of self-satisfaction that keeps Ramba volunteering. "I just like helping people. I get a lot of selfsatisfaction out of it," he said.
— by Patti Sponslor
---
2004

---
2004
---
2003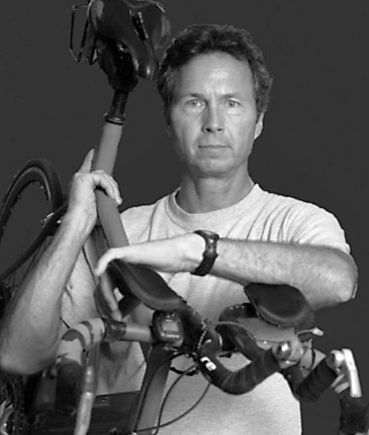 He's smart, he's sassy and he's allot of fun. The guy is also one heckuva runner and tristud. This year's Golden Shoe recipient is the infamous Barry Jones, or 's.b.' as his friends call him. (His wife, Brenda, can tell you what the letters stand for.)
Barry has done allot this past year to bring SCR into the new century. He developed and maintains the SCR website which is becoming well known for up-to-date running and racing information. More than 23,000 folks have logged on in the last year and we are now getting close to 1000 hits a week.
You may have also seen Barry at some of the SCR races catching the action with his digital camera. His photos have added a lot of life to this otherwise dull newsletter. His post-race galleries are on display on the website. He completely captures the spirit of each race.
If you haven't seen Barry at the races, maybe you've noticed an old, beat-up, white pickup truck full of equipment. Barry often lugs coolers, food, timing systems, trophies, tables and anything else that race directors need to make sure the race is safe and successful.
So, if you're out and about and see some tanned guy with wild hair, tell him 'hello' and 'thanks'.
Prepared by Patti Sponsler
---
2001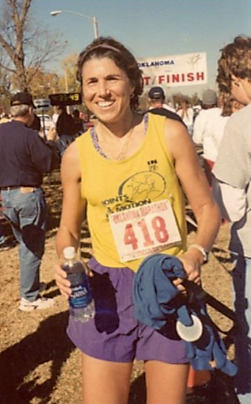 Our 11th year recipient of The Golden Shoe Award started running in high school. Linda Novelli Thompson would get class passes to go the track and run for an hour verses sitting in class. It's a mystery to us why she never joined the high school track team. May be with a little coaxing she may tell us why. While attending college in Pittsburgh and later in Gainesville, she did start running 5K and 10K races. In 1985 during a 4year stint in Charleston, SC, Linda ran her first half marathon. Then finding herself in Atlanta, Georgia for a couple of years, she ran the Atlanta Half Marathon. June 1989 brought the Thompson's to Merritt Island. It took her until November 1995 to discover the marathon and the realization that she was not meant for speed, she was meant for duration. Linda entered the Space Coast Marathon as a training run getting ready for Disney in January, and planned to drop out at 20 miles. At 20 miles she was feeling good and decided to finish her first marathon.
Wherever the Thompson's moved, Linda found a running club to join. She joined the Space Coast Runners Club in July 1989 and ran her first race in July, the Bargain Beach , 10K. I distinctly remember meeting Linda at her first SCR meeting she attended in June 1997. I guess Linda enjoyed the meeting since she was back the next month and the next, July and August. From February through July 1997, I found myself doing the club minutes since George Revels, Secretary, was having problems making our monthly meeting due to work commitments. I know these dates since I still have those minutes in my computer. In August I asked Linda if she wouldn't mind taking over as Secretary. She stated she really didn't have the time but as long as she was at the meeting she would take the notes and I would type them up.
Well, she took the notes and decided to type them up and hasn't stopped yet. She officially became the SCR Secretary in May 1998. In addition to her secretarial responsibilities, Linda, along with Ken Winn, directed the inaugural and the following two and is planning the fourth SCR Family Everybody Wins 2 Mile Fun Run. She directed the first two Tooth Trot 5K's that benefited the Brevard County Dental Association. The Tooth Trot was voted in as an SCR Runner of the Year Series event after its inaugural year. She was also the race director of the very successful inaugural Pumpkins In The Park 5K that benefited the Junior League of Central and North Brevard.
Linda has taken a lead role in planning and improving the SCR Marathon for the last two years and is presently supporting the 2001 marathon. She developed the applications, coordinating a host motel, getting race packet goodies, etc. Prior to moving the SCR Awards ceremony to the Butlers, Linda coordinated the food and ticket sales for the past three years. We also find Linda behind the scenes as a race day volunteer. Linda continually volunteers to help with many of the day to day activities of the club.
For example, when the board realized that we did not notify the 2000/2001, forty plus race directors of the Annual Best Race T-shirt A ward, Linda volunteered to phone each race director and remind them to bring their race t-shirt to the Awards Ceremony, printed out certificates for the SCR Board members, etc. Linda has recently been certified as a SCR Finish Line Timer and has successfully coordinated her first finish line at this years Pineapple 10K. In honor of her daughter Sammi Jo who has Juvenile Rheumatoid Arthritis, Linda raised several thousand dollars for Joints-In-Motion, far exceeding expectations, while training and running the Honolulu Marathon. She went beyond what was required of her too raise. She is planning on doing the same for the Leukemia Society, Team In Training in honor of another family member. We can take up another page listing everything Linda has been doing for the SCR Club and its members over the last few years, but as you can see, it has been substantial.
Being the mother of two young girls is Linda's number one job. Her number 2 job is volunteering. Although Linda is not being recognized for her work outside of the SCR Club, it is note worthy that, in addition to her SCR work, Linda is and has been a volunteer and board member for several other organizations in Brevard County. This includes the Junior League of Central and North Brevard, The Alliance of the Brevard County Dental Society, Holy Name of Jesus School and Church, and the Alliance of Florida and American Dental Association.
I would like to make two points in closing. First, Linda, who considers her hobbies running, sewing and reading, often asks the rhetorical question, "Do you notice any team sports in my hobbies?" Well, I hate to burst her bubble, but yes, thankfully we do see a team sport in her hobbies and it is called Volunteering. Second, some credit has to go to Linda's husband Craig. It doesn't matter what, when or where Linda volunteers, but when she does, you get two for the price of one. Craig is always there supporting Linda. It doesn't matter if it is support of a remote marathon such as Brookings, South Dakota, accompanying Linda to SCR meetings, or volunteering at races that Linda is supporting or running. Craig is there, and we certainly appreciate Linda bringing him along.
Linda has and continues to do a lot for the Space Coast Runners Club and community. If for some reason Linda were to quit supporting us, we would need two or three of us to replace her. I know, we as a club, appreciate her hard work, but individual thanks means a lot also. So, the next time you see Linda please tell her how much you appreciate her efforts. For the reasons stated above and for the many things not mentioned, we would like to take this opportunity to express our sincere appreciation and gratitude to Linda Thompson and present her with the 2001 GOLDEN SHOE AWARD.
Prepared by Marty Winkel
---
2000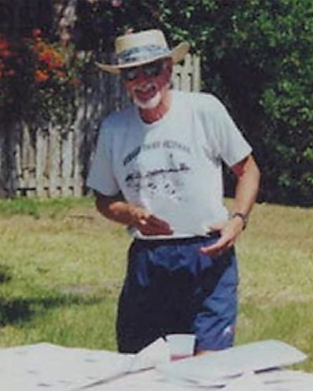 As in the past years, the Golden Shoe Award was a difficult decision to make this year. We were able to narrow it down to two very well-deserving individuals. However, since we can only honor one individual a year, you will have to wait until next year to see who the other person is.
About 25 years ago, in Texas, following his doctor's advice to slim down and lose some weight, our 10th recipient of the Golden Shoe Award started running. Fortunately for us, he and his wife moved to Cocoa Beach in 1981. A few years later, 1985, he joined the Space Coast Runners Club. Some time between 1986 and 1995 John started to volunteer as the Cocoa Beach Fun Run Director. And, for the past four years he has been our Vice President.
Today, John Chioma is still the Vice President of the Space Coast Runners Club, but unlike MOST Vice Presidents, John is a working VP. John refers to himself as Marty's Hey Boy.
At our SCR Board meetings a lot of the action items I try to disseminate start out with, "hey John, can you…" And John invariably says "yes". Officially as VP, John chairs our monthly meetings when I am unable to attend. Due to scheduling conflicts, for the past three years I have been unable to attend the Space Coast Runners Award Ceremony. And although talking in front of groups is not one of John's favorite things to do, he did fill in for me.
However, John does a whole lot more than fill in for me at meetings. John maintains the projected race calendar which is no easy task. On an almost weekly basis, he coordinates all race dates with the 40 plus race directors along the Space Coast. If there is a conflict with race dates, John helps to resolve the conflicts. John also "maintains" the Space Coast Runners hot line. This entails updating the message on at least a monthly basis with the current race calendar, and returning calls left on the answering machine. I would estimate we receive a dozen messages a week during the racing season.
At our monthly board meetings we review the next month's race calendar. If we do not find a finish line coordinator for one of the upcoming races John helps to coordinate a volunteer by working with the Race Director and several of our "key" finish line coordinators in the club. John also supplies our beach runners and our newsletter with the tide charts. He is involved with every race on the beach, giving advice, marking the course and/or timing the races. This also includes the Cocoa Beach Fun Runs.
John is also instrumental in coordinating the SCR High School scholarship selection. When John is not busy with SCR running responsibilities, you can find him supporting the Cocoa Beach young (youth) runners. John is always looking to give the kids a running shirt as a reward for their running accomplishments. So, if you are thinking of throwing your shirts away don't, see John first.
I am not sure how John fits all his SCR responsibilities into his busy schedule of attending major league baseball games, umpiring youth baseball games, traveling across the country on vacations, going on cruises, going on mountain climbs and driving his fancy new Corvette. But we are happy that he does find the time. One of the reasons I am willing to stay on as President of the Space Coast Runners is the continuing support I get from volunteers like John Chioma. The next time you see John, please tell him how much you appreciate his efforts. If for some reason John were to quit supporting the Space Coat Runners, we would need two or three of you to replace him.
I know, we as a club, appreciate his hard work, but individual thanks means a lot also. So, for the reasons stated above and for the many things not mentioned, we would like to take this opportunity to express our sincere appreciation and gratitude to John Chioma.
- by Marty Winkel
---
1999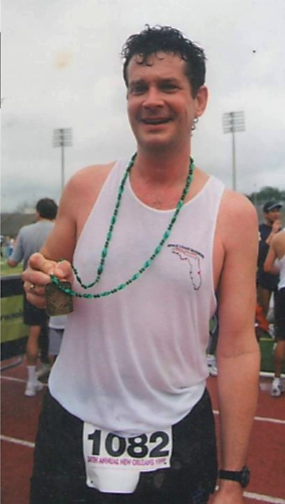 Our 9th recipient of the Golden Shoe Award started running in May 1993 (six years ago) "when I decided to go for a run. I walked back huffing and puffing and then lit a cigarette to celebrate my 1/4 mile journey." According to a mutual friend, besides women, our recipients other hobbies included bowling, smoking, drinking and eating.
He picked up running as an idea to get in shape. He started at a pace of about 11 minutes per mile. The smoking stopped, he lost a few pounds, gained some speed, and his racing t-shirt collection started. This past January he ran his first marathon, Mardi Gras, in his hometown of New Orleans. Several of his friends and family turned and supported him as he ran to a time of 4:12:30. These are all admirable and well deserved accomplishments. More recently, actually today, he will be receiving his first running trophy. He placed in the top 10 of his age group in the SCROY Series. However, we would like to acknowledge and thank Kenneth Winn for every thing he has done over the past three years in support of running, Space Coast runners and the Space Coast Runners Club. Three years ago Ken edited his first edition of the Space Coast Runners newsletter. He took a very good newsletter and made it even better. Due to budget constraints we had to limit the number of pages in the newsletter, thereby, limiting the number of articles Ken could include. Three years later and I am still getting only favorable comments on the newsletter.
Ken brought more then his newsletter editing talents to the SCR's. Ken is what is know as an IDEA man. At just about every board meeting Ken brings up a new idea, concept, and/or enhancements that could enhance the SCR club. It became so routine that for the past two years I have a standard agenda item called Ken Items. It was Ken's idea to feature a Volunteer of the Quarter Award, Letter From the President, Welcome New Member concept, The Family Fun Run (last August), The Fun Run Guide To Brevard County, etc.
In addition to doing an excellent job as the newsletter editor, writing articles, interviewing members, obtaining advertisers for the newsletter, requesting articles from SCR members and writing the Letter From The Editor, if Ken isn't racing he can usually be found volunteering at the race. Even after races he competes in, he can usually be found helping out or talking with SCR members asking their opinion on club events.
The next time you see Ken tell him how much you appreciate his efforts. I know, we as a club, appreciate his hard work, but individual thanks means a lot also. So, for the reasons state above and for the many things not mentioned, we would like to take this opportunity to express our appreciation and gratitude to KENNETH WINN and present him with the 1999 Golden Shoe Award.
---
1998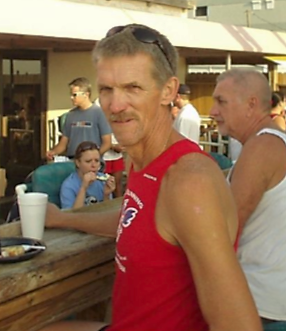 According to a reliable source, Dave Farrall started running in 1982 after his wife Lisa teased him about getting "secretary spread" .He started running around the block and then two blocks and then, well anyway he recently completed his 17th marathon and his first ultra, the Harold Tucker SOK Beach Ultra Marathon. But backing up to 1986, fellow Space Coast Runner Club member, Don Dore, met our 8th recipient of the Golden Shoe Award at local race and encou1'aged him to join the Space Coast Runners Club.
Much to our advantage, Dave did join the club and three years later became a board member. Fortunately for us, Dave races often, has a truck and has the attitude that he is willing to help, So, about three years ago when we were having problems finding a volunteer to bring the race equipment to races, Dave started to volunteer and eventually assumed the responsibilities for the SCR Equipment Manager and an Officer' of the SCR Club. You now see Dave at practically every race along the Space Coast bringing the equipment, help setting it up and after the race picking it up. What you don't see; he has to pick up the equipment from the warehouse the day before the race and charge the clocks and timers. The morning of the race he has to get up a little earlier then most of the other people who are racing in order to get the equipment to the race early enough to set it up. After the race when we are all heading home, Dave is at the warehouse off loading the equipment and inventorying it to make sure nothing is missing.
According to Lisa, "it is not unusual for me to come home from work to find freshly painted mile markers, arrows and finish line signs drying on our front lawn. Then I find a large ticking clock in the spare bedroom." Some of you may have noticed that we have had several problems with our overhead clock and some of our hand held timing clocks. Several times over the last couple of years Dave has had to send these clocks off for repair, "so large boxes appear on our front porch (courtesy of Fed Ex)" says Lisa. After several club members attempts at repairing the "swing set' (the legs were corroding, weakening and bent), Dave not only fixed the legs but was able to lengthen the legs, thereby raising the clock allowing taller runners to come through with, less chance of hitting their heads.
The next time you see Dave tell him how much you appreciate his efforts. I know, we as a club, appreciate his hard work, but individual thanks means a lot also. So, for the reasons stated above and for the many things not mentioned, we would like to take this time to express our appreciation and gratitude to DAVID FARRELL and present him with the 1998 GOLDEN SHOE AWARD.
Prepared by Marty Winkel
---
1997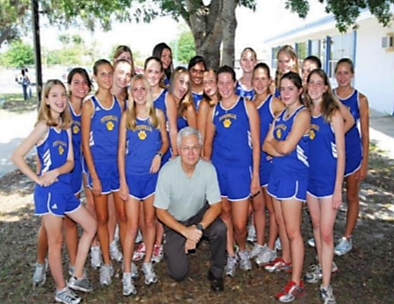 Most or probably all our past Golden Shoe Award recipients were or are high visibility people, you knew they were there, they took charge and to some degree fairly vocal. This year's recipient of the Golden Shoe Award is more laid back. Except for his running successes you seldom hear his name or know that he is involved. However, he is and has been very involved in our running community.
Terry has been a member of SCR club since moving to Titusville 10 years ago. He was on the SCR Board of Directors for three years, but last year at this time he accepted the position of "Treasurer. At that time the SCR was not broke but we were scraping the bottom at the bank to pay for the SCR awards ceremony. Today, thanks in large part to Terry's efforts we are $7500 to the good. Terry didn't do anything out of the ordinary except to take his job very seriously and to make sure the invoices were mailed out and the debits and credits were completed.
Terry also, in the background, has been the assistant race director for the Indian River Festival 8K for the last several years. He has recently accepted to be the race director for the 20th annual Indian River Festival 8K next year. If he does as well as race director as he has as treasurer the Indian River Festival should be the premier race in the county. Terry has also spent many hours volunteering at the Space Coast 12/24 Hour Ultra Marathon, The Great Outdoors 4 Mile Cross Country Race, The Canaveral National Seashore 5K as well as many other local races. Now, when we say Terry volunteered at these races, we really mean Terry, his wife Regina, daughters Anna and Lydia. When Terry volunteers, his family volunteers with him (we get 4 for the price of 1).
Terry is also a role model to many of the Titusville High School cross country and track runners. When these young ladies and men see the "old guys" training and training hard through the Florida heat and rain it sets a good example of what can be done with some hard work. And knowing of Mr. Hayden's running accomplishments really emphasizes the point to them. I know of at least one occurrence and I'm sure there were several times when Anna or Lydia were told "hey, I saw your dad running in the rain yesterday!"
For the reasons stated above and for the many things not mentioned, we would like to take this time to express our appreciation and gratitude to Terry Hayden and present him with the 1997 GOLDEN SHOE AWARD.
---
1996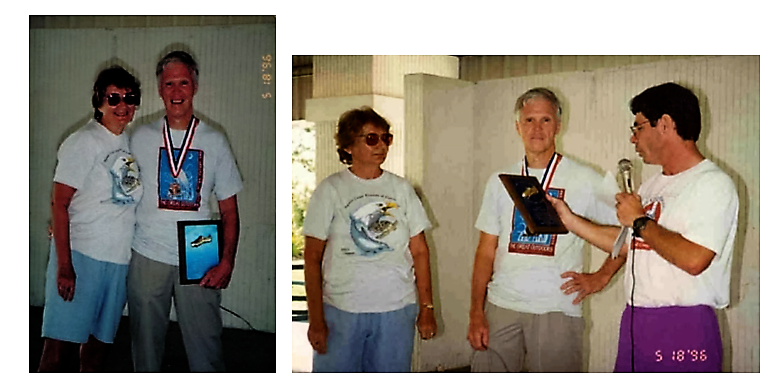 HENRY- THE EARLY YEARS AS PRESIDENT
Fortunately for the running community, a 45 pound overweight, and out of shape engineer was run into the ground within a half mile by his 16 year old daughter. After- or maybe during- the run, Henry thought he was going to die. Instead, he continued to run and became President of the Space Coast Runner's Club. Bob Lawton, Tom and Dot Pifer founded the SCR in 1978. Not to take anything away from the early presidents of the SCR, but the club drifted along until Henry (and Rosie) took over the presidency of the club in 1980, an office he held for three years. According to Harold Tucker, "Henry devoted three years of his life to the running club". It was during his tenure as president that the club evolved close to what it is today. He took the club from 70 members to over 300 members and with the help of Robin Weaver started the Space Coast Runners of the Year Series. Henry also wrote a monthly "President's Column" for the newsletter .A piece of scrap plywood lying in the road or in a trash pile was rescued and soon became a mile marker or an arrow. Most of the wooden signs you see at many of our local races today were made by Henry and donated to the club. It was during Henry's presidency when the club purchased its first measuring wheel. The 5 and 10 mile "Nick Gailey" courses in Titusville and many courses to the south were measured by Henry in his "spare time". Henry supposedly put more miles in measuring many of the courses we are running on than he spent running.
HENRY - AFTER THE PRESIDENCY
Henry did not sit idly by after he left office. For a couple of years he maintained the SCR race calendar, in 1986 he was the membership secretary and remained a dedicated member of the Board of Directors for a number of years. As he did when he was president, Henry continued to devote many hours as race director and fun run director. He was the New Years Eve 5k race director for 15 years, marathon race director and race director at countless other races. I am not sure how many times he did this but I know it was at least once, that Henry measured the marathon and half marathon courses and then painted a red lie along the marathon course and a blue line along the half marathon course so the runners would not get lost. I'm not sure if anyone, including Henry, knows how many races he worked as a volunteer .Henry is still supporting races with his finish line system and attends many of our club meetings.
HENRY - THE ENGINEER
Henry's most notable and recognizable running engineering success is his unpatented finish line scoring system. I don't think we need to go into detail on how it works, but we can all testify to how good it works. On the other side of the spectrum is Henry's not so notable, but effective "Keep your head up so you can breathe properly-Roach Clip". This is a device that Henry uses to keep his head up during races. The theory is that when you drop your head your air passageway is restricted. By clipping this "roach clip" to his shirt collar and his hair, when his head drops his hair will pull and this should remind Henry to pick his head up. By the way, he still uses this at times. I have no idea why Henry doesn't patent this and advertise it in the national running magazines.
HENRY - THE INSPIRATION
Henry has been noted to stop in a race to help a strugling young runner who is walking. Henry will talk and encourage the runner to just run along with him, proving to himself that he can do a little better with a little more effort. Henry doesn't mind helping slower runners and doesn't mind being beat by the same runner he just helped. But he draws the line when turtles pass him in a race. This happened a few years ago during a .marathon. When a turtle tried to pass him in a marathon, Henry stopped running, picked the turtle up and escorted it off the course. To those of you who do not really know Henry, as a suggestion, do yourself a favor. When you have a couple of hours to spare, talk to Henry about his experiences. It will be well worth your time. Henry is a unique individual.
HENRY - THANK YOU
For the efforts stated above and for the many things not mentioned above, we would like to take this time to express our appreciation and gratitude to Henry and present him with the 1996 GOLDEN SHOE AWARD.
Additional Data
I would like to add my voice to the congratulations to Henry Campbell on his Golden Shoe Award.
Once upon a time, in May of 1979, I was running in my first race ever, a 10K in Cocoa Village sponsored by Jolly Trolley. As I labored through the fifth mile, I found myself running next to a guy who was also laboring a bit. We started talking (well, gasping), and he confessed he had a stitch that was really bothering him but he was trying to run through it. He introduced himself and told me his story about his 16 year old daughter turning him into a runner. Meanwhile, he started giving me running tips (where your arms should be, how to make up distance on the road course, etc.). About a quarter mile from the finish, Henry put his head down (1 guess he wasn't, wearing his roach clip...) and blew past me, despite my own desperate attempt to outkick him.
He sought me out after the race to offer praise for my effort and thanks for getting him through his stitch. Well, that race remains my fastest time ever, and I think I have Henry to thank in large part for it.
Over the years since, our paths have crossed many times, both at runs and at work (back when Henry was employed). He encouraged me to keep running before and after the birth of my two kids, worked his butt off on innumerable races, and was (and is) always a great friend to talk to about just about anything. I just can't say enough good things about Henry (and Rosie, about whom he tells some remarkable stories!), and I was terrifically pleased to see him win some recognition for it. Congratulations, Henry!
- Marilyn Hoey Howard
---
1995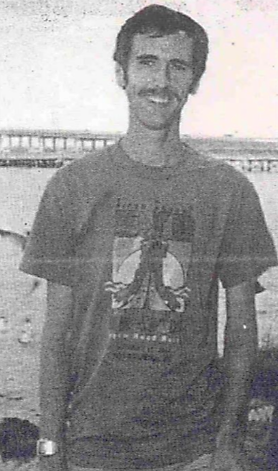 It is difficult sometimes to get information on someone who you would like to commend. If you start asking too many questions people want to know what you are up to. You really can't get too much information from the person themselves. This was a problem we faced this year with our Golden Shoe recipient. Bottom line is this individual is very deserving of the Golden Shoe Award.
George Revels has been a member of the Space Coast Runners' Club for I don't know how many years. He has been on the board for over five years because he has been the Secretary for five years and I know he was on the board prior to this position.
Over the years George has become the unofficial club photographer. Many of the pictures you see in the monthly newsletters are taken by George. You could find him taking picture throughout the entire race and sometimes he will run the race and when he finishes, he starts taking pictures.
We are not sure how many races George has volunteered to work. He has coordinated many finish lines results/scoring including the Set The Pace for the last two years and the Downtown Melbourne 5K are two of the largest races in the county. He took over the Eye of The Dragon as the race director and made it one of the top races in the SCR Club.
As secretary of the club, George is literally the right-hand man of the president. He was invaluable to Rhonda Butler and myself over the past four years. Before I accepted the job of president for the next year I first confirmed that George would stay on as the Club secretary.
For these reasons and reasons not mentioned here, we would like to take this time to commend and recognize one of the hardest working and devoted members of the Space Coast Runners' Club. Congratulations and thanks to GEORGE REVELS the 1995 recipient of the Golden Shoe Award.
Prepared by Marty Winkel
---
1994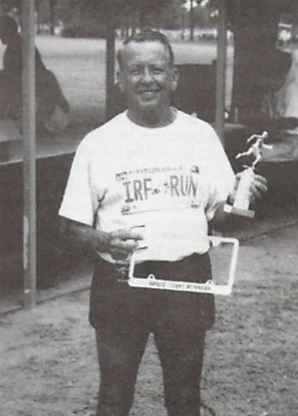 Long time Space Coast Runners member, Bill Dillard was the recipient of this year's Golden Shoe Award, which was presented by Marty Winkel at the yearly banquet. The award recognizes an individual who has made a major contribution in terms of time and quality work to the local running community.
Bill is the current Palm Bay Fun Run Director and during the warmer summer months he treats every participant to the famous Bill Dillard watermelons. Bill has also served as race director for the Aqua Fest 5K and the Space Coast Marathon and Half Marathon for many years. He helped layout, certify and paint the club's calibration course(s). Which are used to calibrate and certify race courses. He has also certified or helped to ceritify almost all the local TAC (now USATF) certified courses, including the Space Coast Marathon (both the old course and the course that will be used in `94). Bone To Run 5K, Downtown Melbourne 5K, Aquafest 5K, Eye of the Dragon 10K, MADD Sunset Games 5K, and Winter Fest 4 Miler. He has also measured and layed out many other courses in the area that are accurate, but not certified.
Bill is skilled at graphic arts and has contributed much artwork to the running community from painting the turns and mile marks for the above listed races, to painting the FINISH boards on the swingset finish line the club uses (which he designed and built), to designing some of the race t-shirts.
Bill has always been willing to help out a fellow race director and I'm sure it's a safe bet that he's probably volunteered in some way at over 100 races. Bill still continues to race and has just entered the 70+ age group.
Bill has also served the community and his country through the Air Force and Reserves. Following Hurricane Andrew, he flew emergency supplies to the Miami area in his own plane. He also volunteers as an officer and instructor of the local Dog Show/Obedience Club and is a nationally renouned judge at dog show competitions.
On behalf of Space Coast Runners, congratulations on receiving the Golden Shoe Award and thank you for all you've done to deserve it.
— by George Revels
---
1993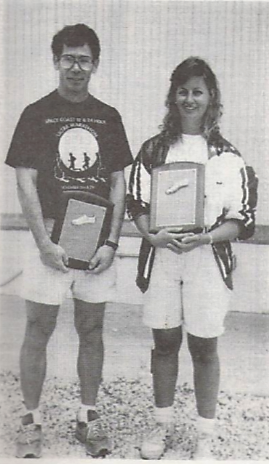 The Golden Shoe award was more like the Golden Pair of Shoes award this year. The committee chose to present the award to Rhonda Butler in appreciation of the thousands of hours she has put in helping out, and working with, race directors before, during, and after almost every race in Brevard. Rhonda has been the most significant point of contact for not only Space Coast Runners, but the area running in general. Not a day goes by when she isn't called upon to help out a race director or runner. In addition, she does a lot of extra work helping out with the club's newsletter and the River's Edge Half Marathon and 5 Km. Her leadership and sense of responsibility has helped improve the quality of road racing in Brevard County making her an ideal recipient of this award.
There was a group of members (lead by Rhonda Butler) who felt that Marty Winkel should receive the Golden Shoe award. It was hoped that Marty could be chosen and awarded without his prior knowledge. This would prove difficult since Marty would be the one responsible for the logistics of this year's award. An attempt was made to have the trophy shop replace the award for Rhonda with the award for Marty. The result was that Marty arrived with an award for Rhonda and Rhonda arrived with an award for Marty. Both are deserving of the recognition.
Marty has made significant contributions to running and racing in Brevard County over the last several years. He is one of founders of the Titusville Runners Club, been a race director for many races, organized and directed fun runs and training runs, served as an officer for Space Coast Runners, written articles about Space Coast runners for Florida Running, and helped coach the Titusville soccer team.
This past year, Marty probably set a record by being director for four major races: The Space Coast 24/12 Run, The Great Outdoors 4 Mile Cross Country Race, The Playalinda Beach Road 5 Km, and the Indian River Festival 8-5 Km. A11 four races are unique to the area (only 24/12 hour race, only cross country, only point to point, and only 8 Km in Brevard County), and the Indian River Festival has been voted as one of the top 50 races in Florida by the readers of Florida Running. In addition to his efforts this year, Marty also managed to win his age group in the Orlando Track Shack Grand Prix series and completed 83 miles in the 24 hour run.
Congratulations and thank you Marty for all that you have done.
---
1992

The editor of Ultra Running Magazine states that Ultra Marathon "courses are acknowledged to be tough, and are cherished and admired for their toughness." One amongst us, Harold Tucker is very similar to an ultra. He is as tough as an Ultra and he is cherished and admired by those that know him.
It is difficult to state everything Harold has done for the Space Coast Runners Club and for the runners of the Space Coast. Harold has been associated with the Space Coast Runners Club virtually since the start. He has been president, director, race director, fun run director, founder of the Bargain Beach Run, historian, statistician and advisor to our club. Harold was also honored with the 1992 Space Coast Runners Golden Shoe Award.

At this time the Space Coast Runners Club would like to take this opportunity to announce the renaming of one of our races in Harold's honor. A race very close to Harold, one he has directed and participated in. A race, a course and a man that is tough, cherished, admired and above all respected: the Space Coast Runners 50K Cross Country Beach Run will now be known as THE HAROLD TUCKER 50K CROSS COUNTRY BEACH RUN.
---
1991
Approximately 5 years ago, anytime you went to a race you would see 20 to 30 kids in pink Shirts. No one really knew much about them or where they came from. It turns out they were the Port St. John's Runners Club. It was a running club for children. The club was primarily boys and girls from Challenger Elementary School, but over time they have grown to include children from Titusville, Cocoa Beach And Orlando. The person who started the club is their coach, advisor, statistician, chauffeur and friend. He holds practice two or three times a week, keeps them motivated and directed with out causing burn out. When the club first started he went to various clubs (including SCR) to help standardize and structure the younger age groups. He was able to get club discounts for his runners to many races.
He has been known to pay for some of the children's entry fees, he has bought them running shorts, shirts and even shoes. I know he can afford this, he is a school teacher and makes the big bucks. He either provides transportation or coordinates car Pools, shares motel rooms and feeds some of the kids. He has been to races all over Brevard County, Vero Beach, Orlando, Jacksonville, Green Cove Springs, Miami, Charleston, S. C. (Cooper River Bridge 10k), Kinny Cup In North Carolina, Nebraska for the Junior Olympics and who knows where else. Even though he is a runner he seldom races. I would guess out of may be 20 to 25 races he went to this past year he probably ran in five of them.
Instead of racing he is out there offering them support, encouragement, coaching, teaching, keeping the stats, and video taping. Some of the parents of his runners are also running. A few communities over the past few years have started youth running clubs. The Port St. John's Running Club is the only one I know of still flourishing. He must be doing something right.
Four years ago the Port St. John's Jaycees started a run for MDA. The first year the event was poor. Poor shirts, awards, organization and an inaccurate course. He took the race over as the race director and in two years managed to improve it enough to become one of the SCR series.
I'm sure I have missed many of the things he has done, but as you can see he has done quite a lot. Much of what this individual has done could not have been done without the support of his wife, Jean. The inscription on the plaque reads: Space Coast Runners Club Golden Shoe Award is presented to Gary Harbison for your commitment and dedication to the runners of the Space Coast. Prepared by Marty Winkel
Additional Data
At this year's banquet, Marty Winkel presented Gary Harbison with a special award for what he's done for youth running in Brevard. Specifically, Gary can be seen at most of the races with a collection of young runners wearing their pink Port St. John's Runner's Club tee shirts. Gary has been a great influence to these kids and many others in the area and his contributions go beyond the normal expectations for someone in his position. Gary is also the race director for the Port St. John, MDA 5K Classic held every March. Marty has suggested that this award be presented every year and Gary was an excellent choice as the initial recipient.
Prepared by George Revels
---
To view historical Golden Shoe Award recipient pdf, click here.