SCR Masters Team
Are you interested in joining the competitive Space Coast Runners Masters Team?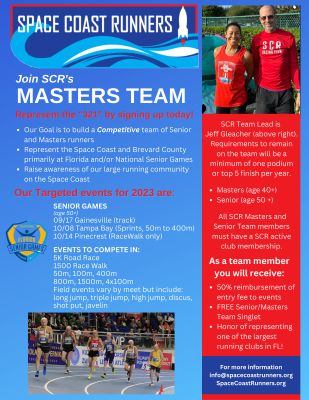 The team would travel to track, road and/or cross country events - state, regional and possibly, national. We're specifically focusing on a team to compete at Florida and National Senior Games. This team would be comprised of members aged 50 years and above as you're eligible to compete at Senior Games events around the state of Florida, as well as potentially in the National Events.
The goal of this team is to provide an opportunity for SCR runners to compete outside of Brevard County to demonstrate the quality of our running community. We think our club members could be very competitive at these events and are willing to assist financially. Many SCR members have competed at Senior Games in Road Races, Race Walks, Track & Field events. The most recent National Meet in Florida produced National Champions from SCR. Space Coast Runners will be traveling to the National Senior Games meet in Pittsburgh this year.
The SCR Masters Team will:
Represent SCR across the state

Help facilitate transportation to these events, as they are typically at least one hour away from the Space Coast
As a Team member you'll receive:
50% reimbursement of entry fee to events

Senior/Masters Team Singlet

Honor of representing one of the largest running clubs in FL!
A typical meet schedule is listed here for the Fall, but dates and events will be flexible based on Members' interests/availability with the goal being representation at the year end Florida State Championships. Qualifying for the State Championships requires finishing a local meet with either a qualifying time or place. Local qualifying generally only requires completing the event, as there are generally enough qualifying slots in each age group.
Gainesville Senior Games, 09/17/2023 -Track only. Race walk, Running, Field

Jacksonville Senior Games, Dates TBD but between 09/29/2023 and 10/06/2023

Golden Age Senior Games, Sanford FL. Dates and events TBD.

Florida State Senior Games, Pasco County. Dates TBD but predicted to be: Road 12/09/2023 and Track 12/10/2023
Senior Games Events to compete in:
5K Road Race

1500 Race Walk

50m, 100m, 400m

800m, 1500m, 4x100m Relay

Field events vary by meet but include: long jump, triple jump, high jump, discus, shot put, javelin
Interested? For more information, contact info@spacecoastrunners.org.
To view the power point presentation that was given on 4/30/20, click to download file.