Trot with Turkeys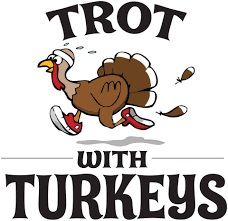 Race/Run have fun. This event is a friendly run and does not include a T-Shirt (which we have enough of), finisher medals, race bibs, or event mile markers. In fact, the course is 4.95 miles so if you are interested in making it a true five miles you will need to run a tad more. Parking is not a problem with this local run.
It is held every Thanksgiving day and starts at 8 am.
It is held at Lynch and Sons Funeral Director building in Walled Lake. It located at 340 North Pontiac Trail in Downtown Walled Lake Michigan.
They have two distances of 5k or approximately 5 miles. (Rough Route Here)
The event can be run or walked but be aware that the event is not timed nor is there traffic control on the roads. The start of the run can be slightly congested but nothing close to what I have seen at the Downtown Turkey Trot race.
The event is free but the organizers as that each runner bring some non-perishable food to donate to the local food bank.
They allow runners to use their restrooms and in some cases they have even opened up the whole building for runners/walkers to stay warm before or after the event.
Hope to see you there.
Click this for a map of where we meet and start.