FAST Bricks

During the late spring through the 2nd Tuesday of September FAST holds their brick training event. This is one of the most popular workout events during the summer.
Be sure to join the Brick Group within our website to be notified of special events or changes to the shedule.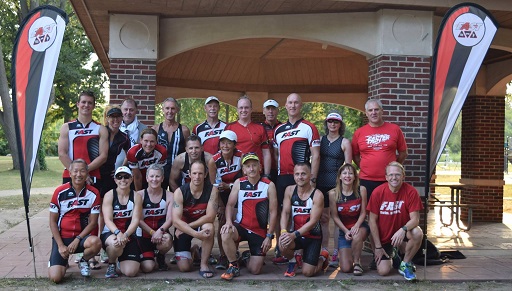 The format is as follows:
Format: Bike first, toss your bike in your car and then run around Lake Newburgh
Time: We depart on our bikes at 5:30 pm typically with a 2nd group (those that miss 5:30 pm) at 5:45 pm
Bike Distance: Bike Down Hines drive eastward with most people turning around at Outer Drive and then back. This is just short of a 20 mile bike ride. Some members extend it to 22 miles by passing the Sumac Pointe parking lot and going to Haggerty road for a short out and back.
Run Distance: 3.1 miles or 5k. The course is about half paved bike paths and then half dirt trail run. Most members run this counter clockwise but a few non-traditionalists run clockwise. Either way it is a perfect 5k.
Why: This gets you ready for that sprint triathlon and the transition from the bike to the run. This teaches you to run through the rubber legs when you get off the bike.
Post ride: Many members stick around and cool off under the pavilion to chat and enjoy the weather.
Special Events: A few times each season the club purchases food and/or drinks for members to enjoy under the pavilion.
Maps:
Bike Route

The Run Route: