The Jon Logan Multi-Sport Racing page.
This race will NOT occur for 2023. Looking into a new venue and name. Considering a race in honor of Mark Squires who died tragically in 2022
In 2023 a new venue is being considered and we might have a trial run for those that wish to test out a new course. No timing, just fun and triathlon training event. Considering Camp Dearborn area or equivalent. We are looking to replicate the beginner to expert format with just as much fun.
Below is just for reference. What was the Jon Logan Triathlon event about; if it ever returns.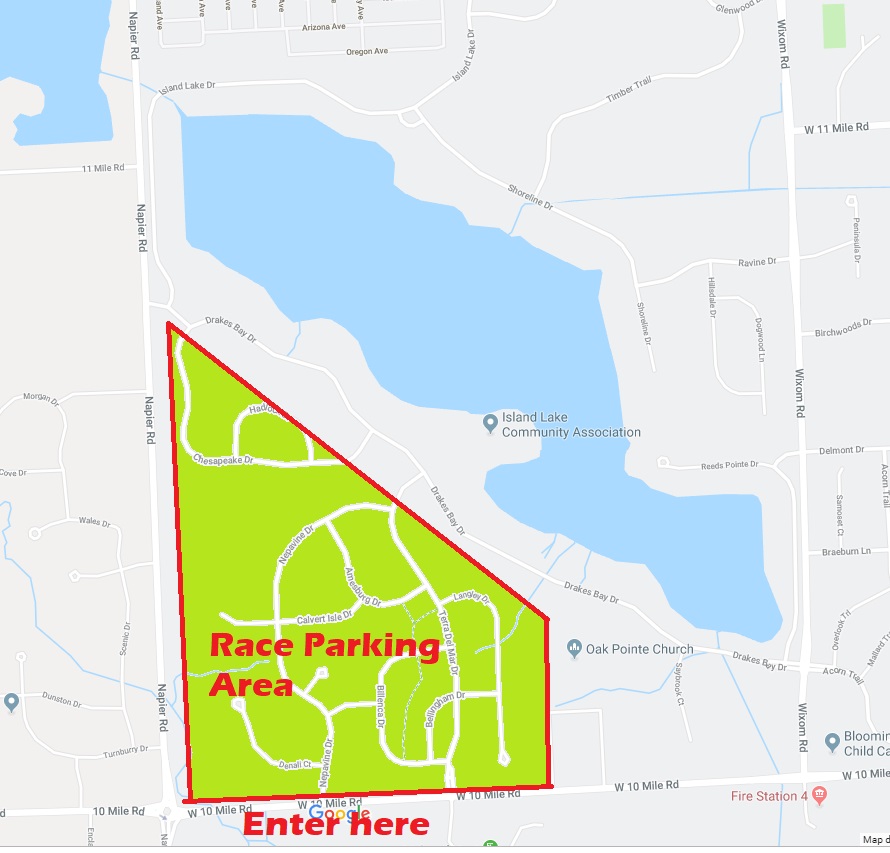 FAST's Annual Triathlon and Open Water Swim event
Triathlon: 0.5 Mile Swim, 12 Mile Bike, 3.2 Mile run

Triathlon 3 Person Relay: 0.5 Mile Swim, 12 Mile Bike, 3.2 Mile clockwise circle run - this means one person swims, one person bikes, one person runs

Open Water Swim: 1.5 Miles

Duathlon: 2 mile run, 12 mile bike, 3.2 mile run
50444 Drakes Bay Dr., Novi, MI 48374 - General area is 10 Mile Road & Wixom Rd. in Novi, MI



Date - Sunday, July 31, 2022 – 8:00 am
Entry Fees
Prices below are based on being a USAT member: add $15 to these prices if you need to purchase one day insurance thru USAT.
Individual Triathlon and Duathlon
Open Water Swim – Also requires USAT membership/insurance
2 or 3 Person Triathlon Relay

Location
The Island Lake Community is located on the corner of 10 Mile and Wixom Rd in Novi. (This is not the Island Lake Triathlon at the State Park.)
Event Details
The annual Island Lake of Novi Jon Logan Memorial Triathlon & OWS, sponsored by FAST Swim and Triathlon Club. This sprint event is great for Triathletes of all abilities. The triathlon and open water swim will start from the beautiful community boat house. The bike is on paved roads in the Island Lake of Novi community. The run is on paved sidewalks, roads and packed trails, which take you around the lake and nearby homes. Stick around after the race for food and raffle prizes!
The Course
1/2 mile swim, 12 mile bike and 3.2 mile run sprint triathlon. The course is all within the Island Lake of Novi community. The bike course is two loops on paved roads. The run is a loop around the lake back to the boathouse. The Open Water Swim will be a counter clockwise triangle loop starting from a sandy beach.
Swim
We conduct in water start but all participants need to start behind the starting line. We also attempt to set the course up for open water visibility by using landmarks, as well has buoys to mark the course. For example the last leg of the swim is straight back to the tower on the club house which is very easy to see on a clear day. Most of the swim is deep enough to stay clear of weeds, and we have adjusted the course the last few years to avoid them. The swim will be patrolled with life guards in kayaks to ensure your safety and direct you in the event you go off course. All swimmers will be provided a color keyed swim cap which must be worn. Wetsuits allowance will follow the USAT guidelines. (Open water swimmers will do three loops of the swim course – no wetsuits for open water swim prizes/awards)
Swim Course - click here (3 loops for open water swim)
Bike
We will have two loops as prior years and as usual, you are responsible to keep track of your loops. Not doing two loops is an automatic DQ.
Run
The route will take you completely around the lake. It will start on the sidewalk until you clear the bike route area. Then the course will move to the roads for less congestion. It will take you through the woods using a wood chip covered trail. After emerging from the woods, you once again can run on the roads. Eventually you meet up with the bike course and at that point, you will need to run on the sidewalk through the finish. The run will have 3 water stations, approximately 1 mile apart from each other.
Run Route - for Duathletes only - click here (1st leg of race)
Run Route - for all racers - click here (last leg of the race)
Transition Area
We have a single transition area. You will be required to rack your bike according to your assigned race number group. (Not specific location, only a specific section for you to find a spot).
Post Race Activities
* Food for all race participants; sorry that we cannot feed the spectators as well :(. Please help us ensure there is food for those in later starting waves – don't sneak food out.
* Everyone will receive a race specific finisher's award. Top finisher in each adult age group (20+) of the Individual Triathlon race will be presented a hand made wooden trophy. Trophies for other winners and all age group places through 3rd place. Relays typically recieve an award for 1st place. If we have a post race raffle and you wish to take part in the post race raffle you need to turn in your small race number and be present to win.
Note to Spectators
Spectators are welcome. Bring a camera, bring your loudest cheering voice, and bring a folding chair. We ask that you leave your pets at home, and if some are seen they will be asked to move away from the transition area and the boathouse area. The best place to watch the race after the swim will be around the transition area. Please stay off private property and respect this community. They are treated to a flurry of activity if they hang around the transition area as they see the participants finish in the parking lot as the transition area is there as well. They are encouraged to cheer the finishers on and bring a chair to relax in.
Inclement Weather Policy
Race Director has the final authority on what to do in the event of inclement weather. The race director could change the format of the race, delay the start, decrease the time between the wave starts, or cancel it (if this is done we are unable to provide any refund or credit as everything at that point will have been purchased already.) If there is lightning before the race we may ask everyone to stay in their cars until it clears – race times will be adjusted accordingly.
Other / Lost and Found
* Post race there is always something left behind. If you wish to find out what was discovered left behind send an email to swimfasttrifast+racedirector@gmail.com Articles will be kept for 30 days upon they will be given to charity or discarded.