About
Join Now!
Single Membership $20 - Family Membership $25 -Youth/Senior Membership $15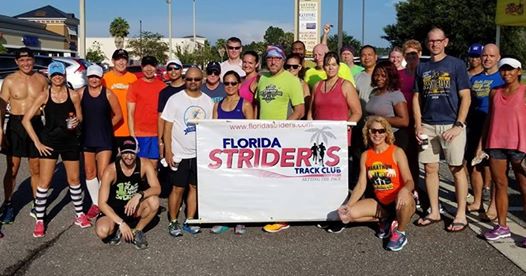 The Florida Striders is a running club that is a non-profit organization of running enthusiasts who love to run, race and socialize! We were founded in 1978 by a group of runners who sought to promote running for health, fun, and competition with an emphasis on fun. Our members number in the hundreds, increasing every day. We would like to invite you to join the Striders if you are currently running, have children or parents who run, or would like to start running and would enjoy some support and good company. We have many members with competitive coaching experience and we all started somewhere, so if you are thinking about joining and need a little convincing, here are some great reasons to get involved:
Weekly Training Runs. We have training runs in different parts of town and at different times of the day. The traditional 6:30 am Sunday morning run starts and finishes at the IHOP on Blanding Blvd in Orange Park with routes of varying distances. For a complete list of runs and contact info for Jacksonville and nearby cities go to the Training Run Schedule page.
Other Great Benefits:
Significant discounts at all 1st Place Sports locations and the New Balance stores.

Discounted entry fees on all Florida Strider races: River Road Resolution 5K, Angry Tortoise 25K/50K, Run to the Sun 5K, Memorial Day 5K and Hog Jog Cross-Country 5K.

Wednesday evening track work outs / running classes at St. Johns Country Day School track, Orange Park.

The "StrideRight" newsletter is emailed to you. Check out the StrideRight online.

College scholarships for local graduating seniors.

Supporting running programs in our local elementary schools.

Social events including great speakers: Donna Hicken, Hal Higdon, Todd Williams and Jay Birmingham to name a few.

Training clinics and coaching advice from experienced members.

Private hospitality tent for Strider members at the Gate River Run with food, drink, & a great place to swap race stories.

Electronic e-blasts for the latest on upcoming events.

FREE Member Pictures from most of our events.