LFLB THANKSGIVING DAY RUN GEAR
Getting ready for our annual Tim Plum Thanksgiving Day Run? We've got you covered! Literally. Ask Kimberly or Liisa about ordering our special Thanksgiving tech baseball hat or our gray Thanksgiving hoodie (available now). $15 for each.
Cap: This Dry Fit Moisture Wicking Mesh Cap will be sure to keep you cool with its super breathable dry mesh fabric in a comfort fit. An adjustable self fabric hook and loop closure is also featured.
Hoodie: $15/hoodie. Men's/Women's/Kid's sizes (black hoodie for kids / heathered black tri-blend hoodie for adults). Embroidered design.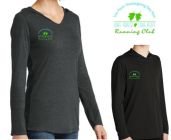 LFLB CUSTOM NECK GAITER
Did you miss out on your chance last year to but one of our custom LFLB neck gaiters? We ordered a limited supply more for this year...Available now!
Dual layer fabric is guaranteed to stay in place while wicking moisture away. Blue & white LFLB logo. $15/piece
Makes a great gift for the holidays!

LFLB SHIRT FOR NEW MEMBERS
Don't forget if you are a new member to our club—we have a free tech shirt for you! (See Liisa or Kimberly with our merchandise team after a Saturday run to pick yours up.) Retails for $10/shirt.
If you are not a member yet—please join! The $30/family annual fee helps us pay for all of the great events we host throughout the year! VISIT lflb.org and click on "Membership" to join! Discount if you pay for 2 years combined.

OTHER LFLB ITEMS STILL AVAILABLE:
Black license plate frames ($5)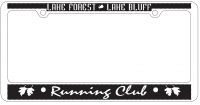 LFLB embroidered hats in blue or forest green ($10)

Brooks tech shirt with LFLB embroidered logo ($35)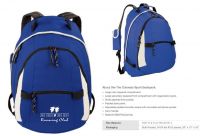 Backpacks: Carrying around your change of clothes in a baggie? Look no further--get yourself an LFLB sports backpack for only $15!



Insulated mini sling / Lunchbag: Need a hot/cold insulated bag to take to work or throw in the car for after a long run? Get the new LFLB insulated bags for $5! Will match nicely inside your LFLB gym bags