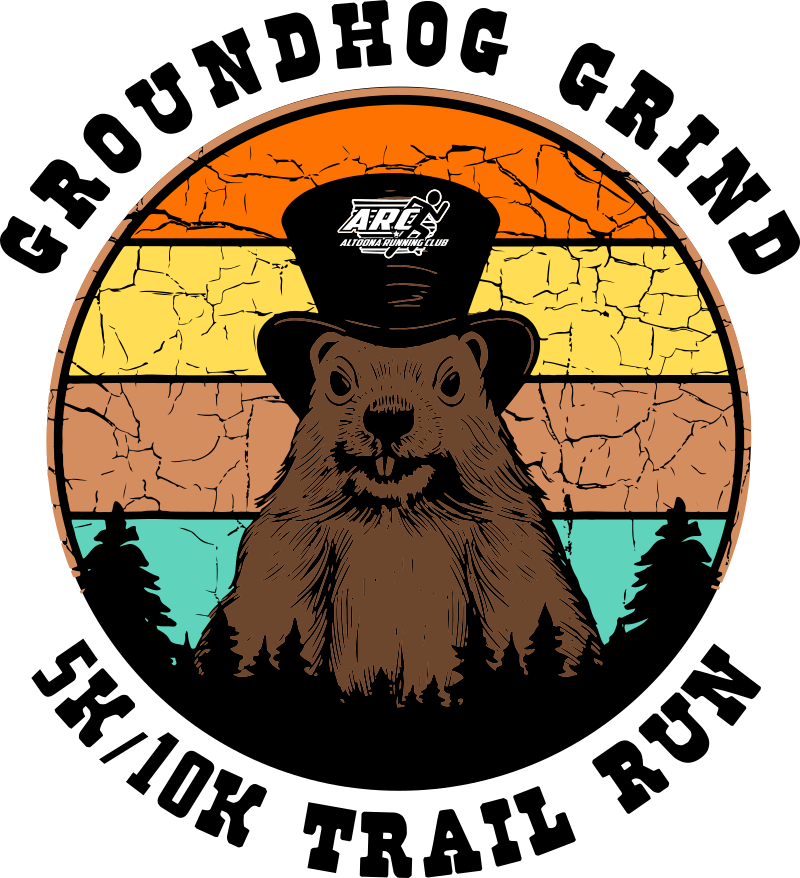 Follow our Facebook Page for timely updates: https://facebook.com/AltoonaRunning
Register for race at: https://ultrasignup.com/register.aspx?did=98052

Groundhog Grind Trail Run
5k - 1 loop
10k - 2 loops

10:00am - 5 and 10k
Sunday February 5th, 2023, Thomas Mitchell Park, east of Altoona, IA (start area is in the campground)


Welcome to the second running of the Groundhog Grind and what we hope will be a challenging running event in the Des Moines area! We frequently run our small count park, Thomas Mitchell Park, and we'd love to show it off to you. This course itself is not necessarily super challenging but running it on the first weekend in February in Iowa will definitely be! The temperature on this day in 2021 was -2° real temperature for the high and -9° for the low, before adding in wind chill. There was also snow on the ground. We hope to challenge and humble you with this race, it will be a grind! The 5k will be fun, and the 10k will have you wishing you signed up for the 5k! We will have the fire pits going for you when you get back and some hot chocolate to warm you up.

COURSE DETAILS
Distances will be measured by GPS but more than likely won't be exactly 5k/10k. No whining. The course is a 5k loop so 1 loop for 5kers and 2 for 10kers. Start finish area will be in the campground where we will also have our race HQ and timing setup from True Time Racing. This will be a chip timed event. The course will head out over the red bridge and through the scout camp area and up our first challenging hill. If you push this one hard you may pick up a Strava KOM with our favorite segment straight up DeVotie Hill . At the top of the hill you will pass by the Dewitt DeVotie grave stone marker and head into the main trail. Shortly after you will take a sharp left into a newly created trail area we like to call Groundhog Gulch. If it snows a lot this could be a factor here so be prepared! A loop around the Gulch and you head back out onto the trail through the woods. You'll come to a Y in the trail and head left following the trail around to the west side of the woods. There will be a quick left and you will head out into the northwest section of the park, Bone Chiller Prairie. This will be another area of the course where a Northwest wind and some snow will be a challenge. You will head down the west boarder of the park and back through the middle of the prairie where you will hit a small trail section that will take you along the Thomas Mitchell Pond. With a small pond section you will head down into the lower section of the trail and do a quick loop along Camp Creek. You will pop back out and head up the trail on another challenging hill back to the Y section and back along the ridge towards the grave marker, back down DeVottie Hill, over the red bridge and back to the start finish area. 10kers will get to have the true Groundhog Day experience and turn around and do it all over again!
REGISTRATION DETAILS
All registrations are $35 for either the 5k or 10k event.
There is an option to switch to a sweatshirt for an additional $10 on the registration form. We will also have an option to purchase a BOCO Groundhog Grind trucker hat for $20 this year! Limited to 35.
No paper registration form. Online registration only.

***NO BIB TRANSFERS OR REFUNDS***
WHERE
Park in the campground parking lot on the south side of the Thomas Mitchell Park. Follow the signs to the campground. If all parking is taken you will need to park along the road or back at the shelter parking lot.
PLEASE READ - Weather Policy
Thomas Mitchell Park is maintained by the Polk County Conservation department and they will have the final say as to whether or not the trails are available for running. Thus, trail closure decisions are 100% up to them. Due to this, there is the possibility that come race day, trails could be closed due to conditions. If this ends up being the case, we will move the race to another date if possible before fully canceling.

This is a very small grassroots event. We do not offer refunds of any sort. We do have a very generous deferral policy, the details of which are outlined above under Registration Details. Please DO NOT register if any of this is unacceptable to you. We hope you'll understand and will register early to help us put have a successful race!
PACKET PICKUP
TBD - Friday/Saturday
Sunday morning, packet pickup will start at 9am and go until 9:45am.
Please consider stopping Saturday as it'll help with congestion come race morning and you'll support one of our race sponsors.

Altoona Running Club's 2nd annual running of the ARC Oktoberfest 6k will be held October 1st, 2022 at 10:30AM. ARC had a great time hosting this event last year and have even more ideas to make it better in 2022! With the Oktoberfest theme we are encouraging everyone to break out their best German costumes and dress up as well! The race will be starting near the plaza just to the west of Hy-Vee in Altoona, behind Swain Chiropractic and Brightside Aleworks. The course is an out and back on the beautiful bike trails of Altoona. Our race is open to all runners and walkers. Strollers are allowed. Please leave the puppy at home though. We will have two way traffic on the course so please pay careful attention to children if they are joining you.
After the 6k there will be a kids pumpkin dash starting at 10AM near the start/finish line of the 6k. This free event is open to children ages 2-10 with age appropriate divisions. The dash will be roughly a 0.25 mile loop that will start and finish at the 6k start finish line. It will be partially on grass and partially on pavement. All participants will receive a race medal and possibly a surprise. Make sure to stay up to date by liking our Facebook page at https://www.facebook.com/AltoonaRunning