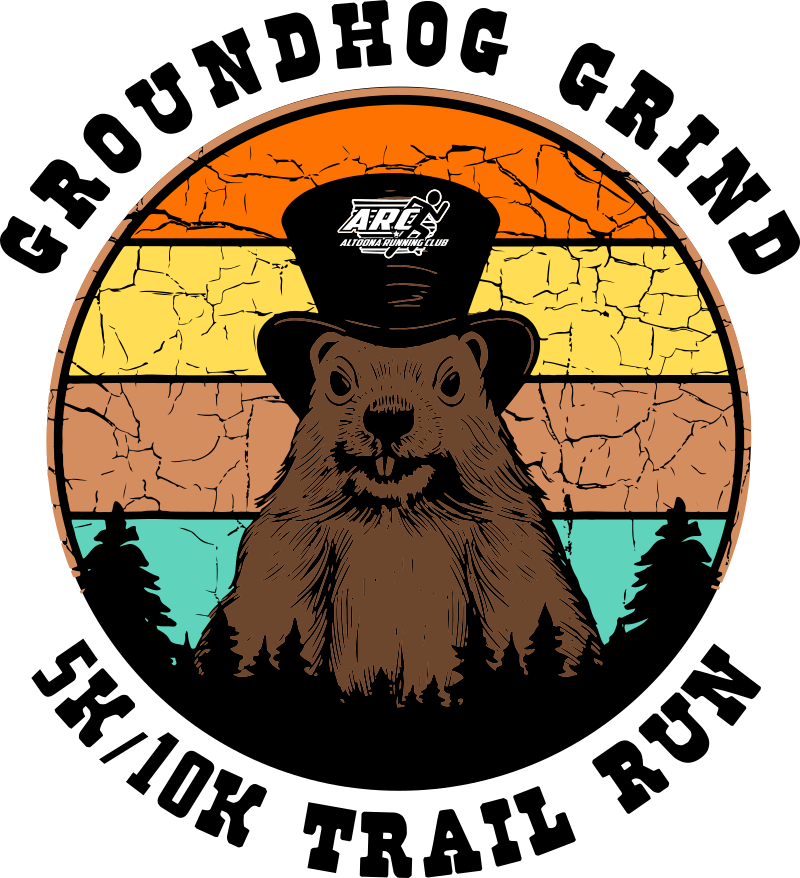 Follow our Facebook Page for timely updates: https://facebook.com/AltoonaRunning
Register for race at: https://ultrasignup.com/register.aspx?eid=14672

Groundhog Grind Trail Run
5k - 1 loop
10k - 2 loops
New this year cross country scored teams! Get 4 people together and put together a great team performance to win our team competition.

10:00am - 5 and 10k
Sunday February 4th, 2024
Thomas Mitchell Park, east of Altoona, IA (start area is in the campground)


Welcome to the 3rd running of the Groundhog Grind and what we hope will be a challenging running event in the Des Moines area! We frequently run our small count park, Thomas Mitchell Park, and we'd love to show it off to you. This course itself is not necessarily super challenging but running it on the first weekend in February in Iowa will definitely be! The temperature on this day in 2021 was -2° real temperature for the high and -9° for the low, before adding in wind chill. There was also snow on the ground. We hope to challenge and humble you with this race, it will be a grind! The 5k will be fun, and the 10k will have you wishing you signed up for the 5k! We will have the fire pits going for you when you get back and some hot chocolate to warm you up.

COURSE DETAILS
Distances will be measured by GPS but more than likely won't be exactly 5k/10k. No whining. The course is a 5k loop so 1 loop for 5kers and 2 for 10kers. Start finish area will be in the campground where we will also have our race HQ and timing setup from True Time Racing. This will be a chip timed event. The course will head out over the red bridge and through the scout camp area and up our first challenging hill. If you push this one hard you may pick up a Strava KOM with our favorite segment straight up DeVotie Hill . At the top of the hill you will pass by the Dewitt DeVotie grave stone marker and head into the main trail. Shortly after you will take a sharp left into a newly created trail area we like to call Groundhog Gulch. If it snows a lot this could be a factor here so be prepared! A loop around the Gulch and you head back out onto the trail through the woods. You'll come to a Y in the trail and head left following the trail around to the west side of the woods. There will be a quick left and you will head out into the northwest section of the park, Bone Chiller Prairie. This will be another area of the course where a Northwest wind and some snow will be a challenge. You will head down the west boarder of the park and back through the middle of the prairie where you will hit a small trail section that will take you along the Thomas Mitchell Pond. With a small pond section you will head down into the lower section of the trail and do a quick loop along Camp Creek. You will pop back out and head up the trail on another challenging hill back to the Y section and back along the ridge towards the grave marker, back down DeVottie Hill, over the red bridge and back to the start finish area. 10kers will get to have the true Groundhog Day experience and turn around and do it all over again!
REGISTRATION DETAILS
All registrations are $40 for either the 5k or 10k event.
Shirts for the race this year will all be hoodies!

No paper registration form. Online registration only.

***NO BIB TRANSFERS OR REFUNDS***
WHERE
Park in the campground parking lot on the south side of the Thomas Mitchell Park. Follow the signs to the campground. If all parking is taken you will need to park along the road or back at the shelter parking lot.
PLEASE READ - Weather Policy
Thomas Mitchell Park is maintained by the Polk County Conservation department and they will have the final say as to whether or not the trails are available for running. Thus, trail closure decisions are 100% up to them. Due to this, there is the possibility that come race day, trails could be closed due to conditions. If this ends up being the case, we will move the race to another date if possible before fully canceling.

This is a very small grassroots event. We do not offer refunds of any sort. We do have a very generous deferral policy, the details of which are outlined above under Registration Details. Please DO NOT register if any of this is unacceptable to you. We hope you'll understand and will register early to help us put have a successful race!
PACKET PICKUP
TBD - Friday February 2nd 4-6pm
Sunday morning, packet pickup will start at 9am and go until 9:45am.
Please consider stopping Friday as it'll help with congestion come race morning and you'll support one of our race sponsors.

Four beers. One mile.
The Altoona Palooza Beer Mile will take place on Saturday August 26th. Overall participant count will be capped at 100 for logistics.
Run, Drink, Repeat! This is a one-mile fun run for runners who enjoy beers. Drink a beer, run/walk/jog (or skip, crawl, whatever you want) your way a quarter mile around the designated route and repeat three more times.
There will be opportunities for those who do not wish to consume beer. We will have a Chocolate Milk Mile followed by open and relay divisions. We will have both an open (fun run) division and championship division (competitive running for faster times) for individuals. This is to help separate people out. If you want to move divisions day of no problem.
Chocolate Milk and beer will be provided as part of your registration fee. Do not bring your own beer for the run as we must obtain from the Altoona Palooza distributor.
Volunteers are also needed.
Races will begin at 10:00 am. A final schedule of events will be posted on August 26th. Each race will have 10-15 entries. The event will conclude with two sections of elite Beer Milers. The event will be capped at 100 entries. Relay events can be comprised of 2 to 4 runners.
There will be prizes for first, second and third place in the competitive division and the relay division.
Schedule(subject to change)
10:00 AM - Chocolate Milk Mile/Non Alcoholic Beer Mile Section 1
10:20 AM- Beer Mile Open Division Section 1
10:40 AM- Beer Mile Relay Division Section 1
11:00 PM- Beer Mile Championship Division Section 1
Beer Mile Official Rules
1.Each competitor drinks four cans or bottles of beer and runs four laps around a 400m route (start with chugging a beer, then run a lap, then beer, then lap, then beer, then lap, then beer, then lap - finish).

2. Beer must be consumed before the lap begins within the transition area. The transition area is the 9-meter zone between the waterfall starting line for a mile race and the finish line of the route. Relay teams must not start opening their beverage before the other runner enters the transition area.
3.The race begins with competitors lined up on the mile starting line, drinking the first beer in the transition zone described in the step above. This ensures competitors cover a complete mile. Competitors can walk/move in the transition area while drinking, but all beer must be consumed in the transition area before setting off to run a lap.
4. Women also drink four beers and run four laps (some past rule lists only required ladies to drink three beers).
5. Competitors must drink canned or bottled beer that is no less than 355mL (12 Oz) in volume, which is the standard can/bottle size in the USA and some other countries.
6. No specialized cans or bottles may be used that give an advantage by allowing the beer to pour at a faster rate (e.g. wide mouth bottles/cans).
Beer cans must not be tampered with in any manner. (e.g. no shotgunning, puncturing the can, squeezing the can, etc.). The same applies for bottles - no straws or other aids allowed that speed up the pouring process. The only action allowed is opening the can with the tab at the top or twisting off the bottle cap of a bottle.
7. Beer must be a minimum of 5% alcohol by volume. Hard ciders, hard sodas, and other alcoholic sugary drinks will not suffice. The beer must be a fermented alcoholic beverage brewed from malted cereal grains and flavored with hops.
8. Each beer can/bottle must not be opened until the competitor enters the transition zone on each lap.
9. Competitors who vomit before they finish the race must complete one penalty lap at the end of the race (immediately after the completion of their 4th lap). Vomiting more than once during the race still only requires one penalty lap at the end.
Every beer mile competitor MUST be over 21 years of age. Designated drivers or use of public transportation is highly encouraged. Identification will be checked at packet pickup.
Persons under 21 years old may participate in the Chocolate Milk Mile.
Race Contact Info
If you have any questions about this race, please contact the race director at altoonarunning@gmail.com
Race Link:
Registration
Altoona Palooza Beer Mile Registration