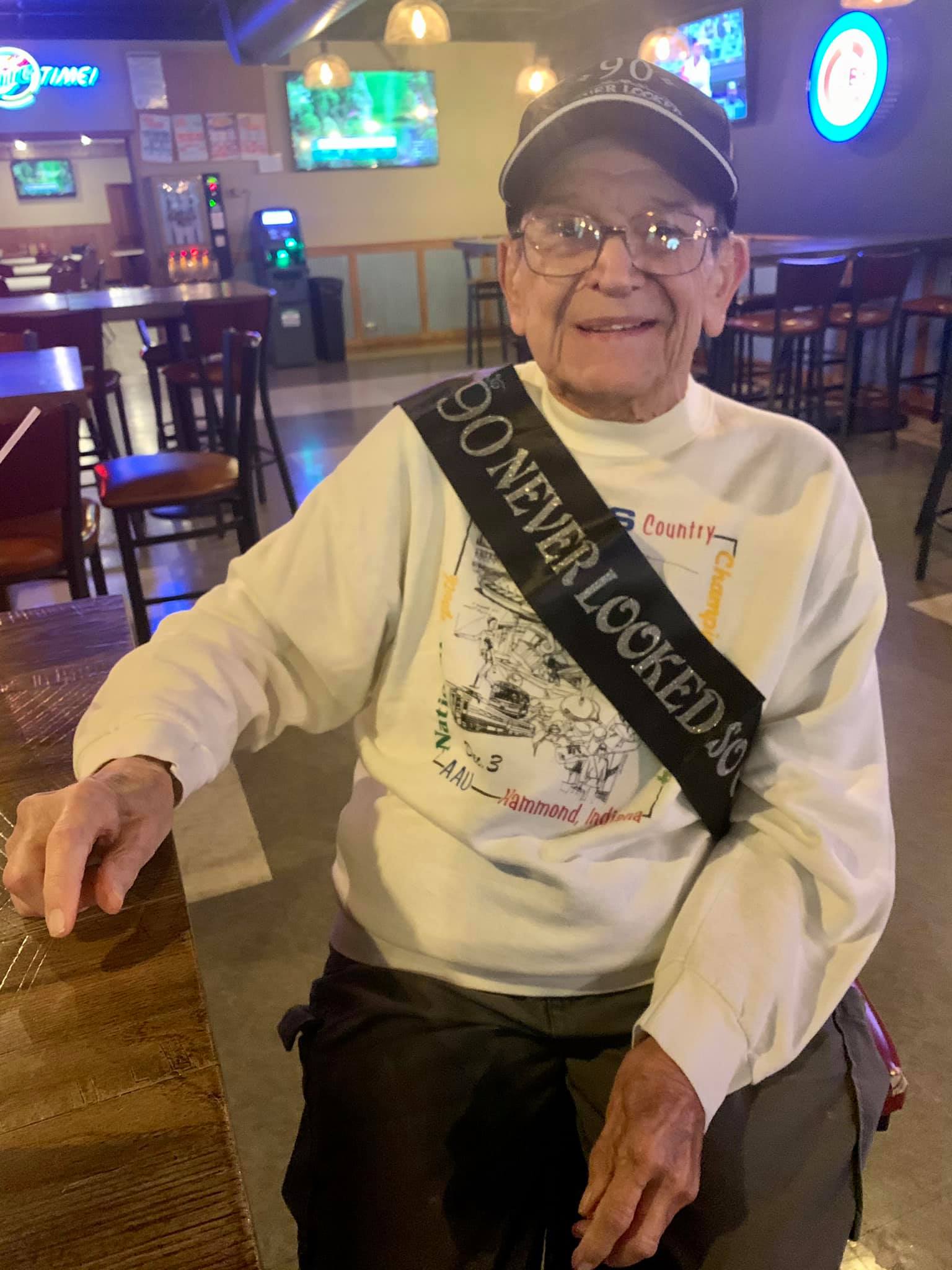 It is with great sadness, we announce the loss of our great friend, Joe Mis. Joe passed away on May 9, 2022 at age 91. Joe was a great friend and a mentor to so many in the running community. Whether you knew Joe from Friendship 5k, Langels/Rodney's Sports Bar or from the many AAU Indiana District meets, he was a wonderful giving man and he cared very passionately about youth sports and coaching.
You can view his funeral arrangements at: https://www.solanpruzinfuneralhome.com/obituary/joseph-joe-mis-jr
Joe will be sorely missed by the Striders. One of our members, Marialena Nagel, who knew him for over 30 years, wrote:
I was recently asked how long I've been running and when I replied, "Since I was 6." we both looked at each other and started laughing. Running for me is part of my every day life. It was instilled in me from a very young age and not only am I thankful for my parents for introducing me to the sport, I am thankful for the people who hosted the meets. People like Joe Mis, Joe Perez, and Jesse Jones to name a few and investing their time and efforts in youth running through AAU Track and CC Meets.
After 30 plus years, the name Joe Mis will always bring back my best childhood running memories. From when the Friendship Race started in front of my Uncle's house at Dowling Park and he provided a water stop for the 5K runners to AAU Meets at Dowling when I was 6!
When I was looking for these pictures to post I realized that my son, Jacob's first 5K was also when he was 6, and it was the Friendship 5K at Wicker Park-Joe's Race
I will miss seeing Joe in the running community, but he will not be forgotten. Rest In Peace.
If you wish to donate to the Junior Striders in Joe Mis' memory, you can submit an online donation HERE. This will take you directly to the Joe Mis Memorial Donation page of our website.
If you would prefer, you can also mail a check to CRS, PO BOX 225, Griffith, IN 46319. Please make checks payable to the "Calumet Region Striders", and write "In Memory of Joe Mis (or similar)" in the memo line.