The mission of MADE in Texas Assistance Dogs is to train and place high caliber service dogs of all types to adults and children with disabilities in order to help them gain greater independence. We are committed to providing service dogs to the person in need and remaining a support resource throughout the working life of the team, while also increasing public awareness about the different types of disabilities and service dogs, and how these dogs assist their partners.
Service dogs make a lasting impact on the lives of individuals with mobility impairments, Post Traumatic Stress (PTS), Autism, and Type 1 Diabetes. MADE in Texas Assistance Dogs is one of the only non-profits in Texas to provide service dogs to qualified applicants aged 12-17, and is among a handful of programs nationwide to provide PTS assistance dogs to both civilians and veterans. The 2010 US Census states that approximately 11% of Texans have a disability that impairs one or more activities of daily living – and, as a result, more than half of our fully trained assistance dogs stay with Texans to help mitigate their disabilities.
MADE in Texas Assistance Dogs dedicates our time to Making Assistance Dogs Easy for individuals with disabilities because the numbers don't lie – there is a statistically huge portion of the American population living with one or more disabilities, and MADE trains service dogs to help these adults and children enjoy more independent lives.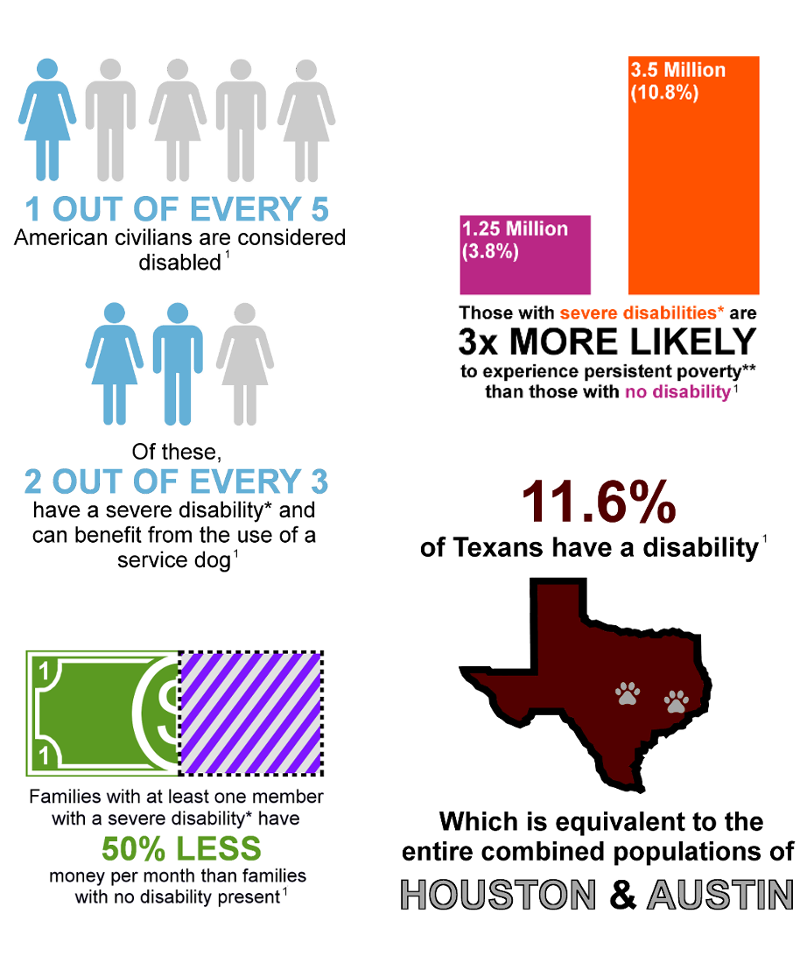 For more information, please visit www.madeintexasassistancedogs.org