---
UPCOMING EVENTS
---
Coach David Levine will be giving a run form clinic and also provide an analysis for each runner individually. Date: TBD
---
Next Wednesday is Global Running Day and we will celebrate at track night at SAMOHI - 6:30 p.m. We will have some surprises and as always a great workout.
---
Saturday - May 28, 2022
Greg Lehman from Hoka will be at the Totem Pole on Saturday to demo the new Hokas and giving away swag and other goodies. He will be there at 7 a.m. Where: Santa Monica Totem Pole, 101 Ocean Avenue, Santa Monica, CA (at the picnic tables).
Plenty of free parking on Georgina and Marguerita Avenue. Free street parking on Ocean until 9 a.m.
---
Italy Run LA 5k - June 5, 2022
Our friends at the Italy Run have given LARC two free entries to their 5K race on June 5 in San Pedro. It's going to be a fun, family-friendly event! Entry includes the 5K, shirt, and medal, plus post-race pizza and wine (for those over 21) and a chance to win a trip to Italy (rules apply). Learn more at Italy Run LA – ITALIAN HERITAGE RUNS DEEP. https://italyrun.org/
If you want to win one of the free entries to the 5k, please enter by emailing: info@larunningclub.com by Thursday at midnight.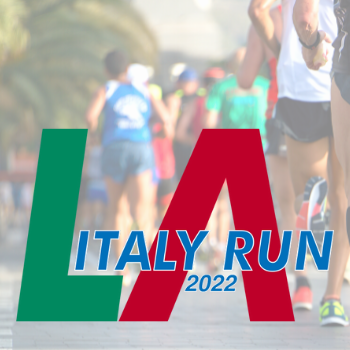 ---
June 11th - Saturday - 7 a.m. - Evolution Physical Therapy will be at the Totem Pole, 101 Ocean Avenue, Santa Monica, for free assessments and for any questions.
---
JULY IS A BUSY MONTH FOR LARC
July 9-10, 2022 - Race Walking Clinic
LARC will be hosting the Race Walking Clinic with Coach Dave McGovern. Dave is America's foremost walking coach and clinician A 25 year veteran of the US National Racewalk Team and has won 15 US National Championships. Dave will teach you the techniques of walking faster and more efficiently. He will record your form and give you constructive feedback and what you need to do to improve. For further information and to sign up click on the link: https://racewalking.org/clinic-dates.html#la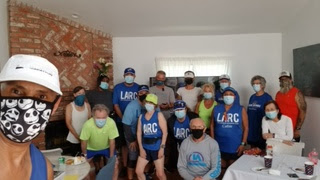 ---

July 2022 - Thursday nights @ Goodr Sunglasses
Goodr will be hosting Thursday night runs in the month of July. Come on out for a short run and enjoy the Goodr cabana on Abbott Kinney in Venice. Goodr will be providing refreshments and giveaways. More details to follow.
---
Sunday at 7 a.m. - July 31, 2022 - Santa Monica, CA LARC - Inaugural 5k.
LA Running Club
Summer Dayz 5K
Sunday, August 7, 2022
7:30 am
Click here to sign up
Join us on Sunday, July 31 for LARC's inaugural Summer Dayz 5K! Enjoy a run or walk along scenic Santa Monica beach and soak up the summer vibes! All participants will receive a medal, post-race snacks, and some surprise swag.
LARC is partnering with Marathon Goddess Julie Weiss in fundraising for the Hirshberg Foundation for Pancreatic Cancer Research. LARC will donate $11 for each race registrant to the Hirshberg Foundation. Why $11? Julie is currently running 11 marathons in 11 months to illuminate the fact that the current survival rate for pancreatic cancer is just 11%.
This is a family-friendly fun run that is clock timed (not chip timed). It will be a loop course on the beach path (open course), with a marked turnaround and a water station. Here is the link to the course map
Race Day Schedule
6:30 am Bib pick up opens
7:15 am Group warm up
7:30 am Race start
Registration: $35
Refunds will not be provided but registration may be transferred to another person.
Use the code LARC2022 to receive a 10% discount on the race entry.
Start Location: 2000 Ocean Ave., Santa Monica, CA 90405
Race will start on the beach path at the end of Bay St., near Crescent Bay Park and next to Hotel Casa del Mar. There is street parking on the nearby streets (check signs for metered hours) and lot parking for a daily flat fee in the beach parking lots.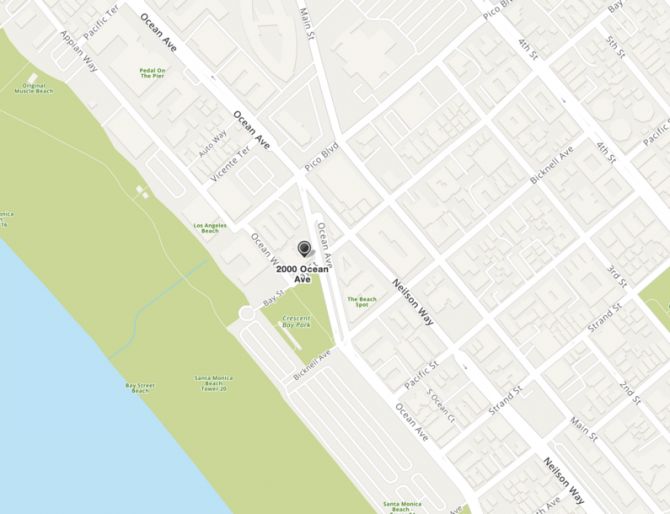 ---
Special Benefit for members only!

I

f you shop at the Santa Monica store, you will receive double rewards but you must show the special LARC barcode when shopping. The store clerk will not know our special. This barcode is only available to our active members on our website.

---
Save image to your phone or right click and save to computer!!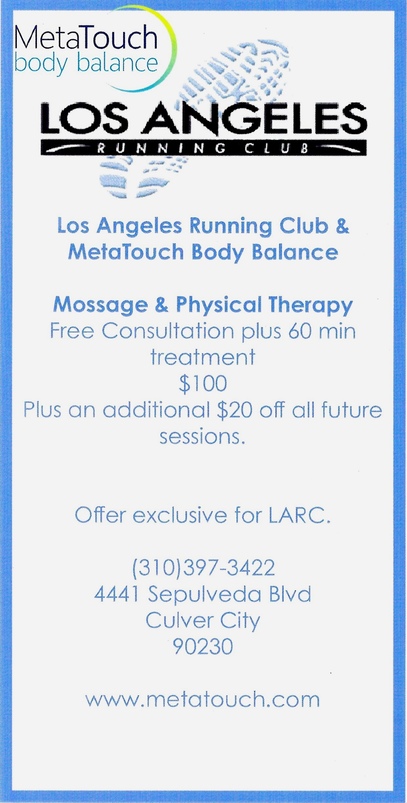 ---
RACE DISCOUNTS
---
Mountains to the Beach
June 5th
10TH ANNUAL M2B - DON'T MISS IT!
Click on the link and join the LARC Team and use the code for 15% off: larunclub4m2b202215
Signup here
The full marathon is sold out but there are still spots for the half marathon.
When you register, please join the LA Running Club Team. The password is LaRc2022
---
CONQUER THE BRIDGE - Monday - September 5, 2022 @ 7 AM - San Pedro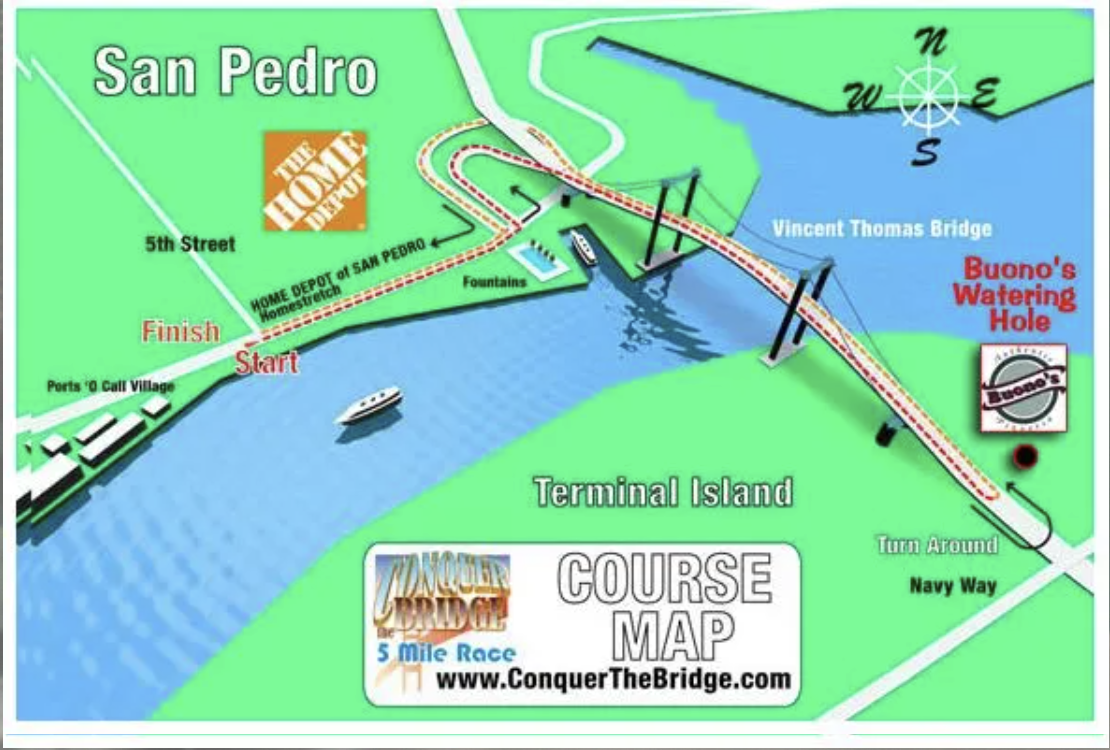 If you ever wanted to run across the Vincent Thomas Bridge in San Pedro now is your chance. It is the 4th longest suspension bridge in California. Yes, the course is challenging but beautiful. This is a 5.3 mile race in San Pedro. We have a discount coupon code and team code below. We would like to at least 30 LARC members to sign up and race together. Let's go!!!
https://conquerthebridge.com/register/
COUPON CODE: CTB13LARC
TEAM PASSWORD: larc!1