EVENT DESCRIPTION
The inaugural Brickyard Sprint Triathlon, hosted by Northwest Indiana Triathletes, is the ideal sprint distance triathlon for both beginners and experienced triathletes looking to have fun and tune-up for the season ahead!
The swim portion of the triathlon will be held in the beautiful brand new, state-of-the-art, 50-meter pool at the Hobart High School aquatics center.
Bike around the rural roads of Hobart, IN for a fast and flat bike split.
Celebrate your finish by running across the finish line on the 50 yard line at the legendary Brickyard Stadium!
Registration will close Saturday April 30th at 5:00PM Central Time. There will be NO race day registration.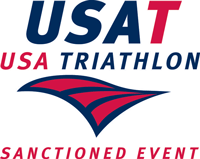 This is a USA Triathlon Sanctioned Event
COURSE DETAILS

SWIM: Race start is time-trial style in 5 second intervals. Racers are organized into "flights" which are seeded by self-reported 100-meter swim times. Flights are organized and staged in the field house to reduce on deck waiting. Racers will swim in a serpentine style across ten 50-meter lanes.
BIKE and RUN: Courses will be opened to traffic & participants are expected to follow all rules of the road. Course marshals & Hobart Police will be at busy intersections to assist with traffic control. There will be 5 water stops during the 5K run.
FINISH: All finishers will cross the finish line on the 50-yard line at Brickyard Stadium.
NOTE: all athletes will compete at the age they are/will be as of December 31, 2022. For example, if you are 29 on race day but will turn 30 on or before December 31, 2020; you will compete as a 30-year-old.
Youth (age 14+) may compete in the adult race but must have an adult present with them when picking up their packet.
AWARDS
Overall Individuals – Top overall 3 male and female finishers
Overall Relays - Top male, female, and co-ed
Age Group Awards - Top 3 male and female finishers
- Adult Ranges: 15 and under, 16-17, 18-19, 20-24, 25-29, etc… in five-year increments to 90 & over
FINISHER MEDALS - awarded to the first 100 finishers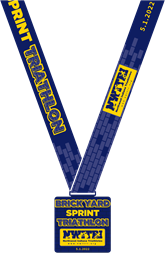 RACE WEEKEND SCHEDULE & DETAILS
Parking on Race Day will be available on the South side of the East lot at Hobart High School.

The event address is 2211 E 10th Street, Hobart, IN 46342.
Once parked, please use Door 16.3 to enter the field house and pickup your race packet.

Transition is located on the West side of the high school, which will be accessible from the East parking lot.

Staging for the swim will be held in the field house, accessible from both transition and door 16.3. Please be in the field house no later than 7:55 am for swim staging.

GENERAL RULES
Course marshals shall have the authority to penalize and disqualify participants.

Medical personnel shall have ultimate and final authority to remove a participant from the race if the participant is judged by the medical personnel to be physically incapable of continuing the race without risk of serious injury. Medical transportation of any participant will result in automatic disqualification. Medical transportation costs are assumed by the participant.

Headphones and headsets are not to be worn at any time.

Good sportsmanlike conduct will be demanded of all participants. Fraud, theft, and acts of grossly unsportsmanlike conduct are grounds for immediate disqualification
BASIC SWIM RULES
1. Each swimmer must wear a swim cap provided by the race organizers.
2. No fins, paddles, floatation devices or buoyancy suits of any kind allowed.
3. Swim goggles or face masks may be worn.
4. No individual paddlers allowed. Course is adequately guarded by onsite professionally trained lifeguards.
5. If official assistance is rendered during the swim, the swimmer shall be disqualified. Water safety personnel have the authority to disqualify individuals if they hang onto water vessels or are moving too slowly.
BASIC BIKE & RUN RULES
Remember - If you are warming up before the event, you must have your helmet on and buckled at all times! If not, you will be disqualified.
1. The end of your handlebars must have plugs in them.
2. Absolutely no drafting of another bike or vehicle is allowed. This is an individual endurance event. Enforcement of the drafting rules will be monitored by marshals on motorcycles and additional cyclists. The draft zone is 2 meters wide by 7 meters long. Once you enter this zone you have 15 seconds to pass through.
3. CPSC, ANSI or Snell approved helmets are always required while on the bike. Chin strap must be always buckled.
4. No outside help is allowed with the exception of ParaAthletes.
5. Each participant will be individually responsible for repair and maintenance of own bike.
6. All participants must follow directions of course officials and public authorities. Do not cross the double center line of the road or you will be disqualified.
7. Each participant must affix a bike number (provided to you at packet pick-up) to the bike frame.
8. Each participant must wear their race number, with tear-off tags affixed to the front of his/her clothes during the run.
9. Bikes must be positioned in the correct bike racks before and after the bike section. No glass containers are allowed in the transition area.
10. You must always stay to the right side of the road unless you are passing. If you do not stay to the right, you may be called for BLOCKING which will result in a time penalty.
For the most comprehensive run down of all USA Triathlon rules please visit their website to review the rule book here: Full Rules from USAT
THERE WILL BE NO RACE DAY REGISTRATION! ALL PARTICIPANTS MUST BE REGISTERED BY 5PM SATURDAY, APRIL 30th
IF YOU ARE NOT A USAT MEMBER, YOU WILL BE REQUIRED TO PURHCASE A 1-DAY MEMBERSHIP PASS FOR $15
Refund Policy
Event may be cancelled, delayed or reformatted due to weather, water conditions, or other emergencies. Refunds are ONLY given for the following exceptions
. Volunteering for event
. Serious medical problem
. Military service
. Funeral, etc.

If one of the above pertains, the following refunds may be provided*:
- Refund, minus $10 if notified at least one week in advance
- Refund, minus $15.00 if notified within one week of the event
- Refund of 50% of entry fee if notified after completion of the event