Description: Join us the weekend of October 17 as we launch our Space Race…a VIRTUAL 5K run, walk, bike, and swim event! YOU are ESSENTIAL to the mission's success.
You can embark on a solo mission, or assemble a crew. Just find your own launch pad and start your countdown. When you're cleared for go, either run, walk, bike or swim through 5 kilometers of planet Earth. And when you're done, join us online for our virtual awards ceremony. Prizes will be awarded for top finishers, themed costumes, and creative use of your own space.
Accept the challenge. Join our mission. Make a difference. When you change a child's life, you change a family's, which can change a community, and ultimately the world…. and possibly the universe!
To Join:
- Complete the registration form below. First choose whether you will bike, run, walk, or swim, then simply complete the rest of your registration.
- Not able to get moving and still want to participate then choose "Suspended Animation" and follow our hashtags on social media and compete for challenge coins. You'll have all the benefits of registration and the chance to fundraise, but no requirement to get out of bed early on October 17!
- - Celebrate and share your creativity and achievements on social media! For your chance to win a prize, you must tag us @rmhcghg #SpaceRace2020 #KeepingFamiliesClose
Registration Includes:
-Ronald McDonald Care Mobile lapel pin
-Space-themed water bottle
-Space-themed bandana
-A chance to earn up to three challenge coins
- A chance to win cash & other prizes when you SHARE your post your race photos and videos on Instagram or TikTok using #SpaceRace2020 #KeepingFamiliesClose
Earn Challenge Coins:
DURING REGISTRATION you will see a "FUNDRAISING" Section. Click YES to support this event and a pop up window will open and where you can set up a fundraising page and start earning Challenge Coins. If you raise $100 you receive one collectible coin, $500 two collectible coins from the set, and with $1000 you receive all three coins from the set. As this is our inaugural year, these coins are destined to be treasured memories and highly collectible!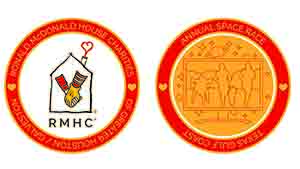 Before the Race:
We will send you information for a pre-race video chat you won't want to miss. The video chat will include important race instructions and feature surprise guests!
How your Helping:
Ronald McDonald House Charities of Greater Houston/Galveston uses the money raised from this event to fund programs that directly improve the health and well-being of children and their families throughout all of Southeast Texas. That's important now more than ever.
To accomplish our mission, Ronald McDonald House Charities of Greater Houston/Galveston operates two Ronald McDonald Care Mobiles (RMCM) in partnership with Texas Children's Hospital and UT Health School of Dentistry to provide free medical and dental care to uninsured or underinsured children in their own neighborhoods. Our Ronald McDonald C.H.E.E.R.! Rooms deliver critical health education to young children while their mothers visit UTMB clinics. And, our Ronald McDonald Hospitality a la Carte program offers care to the caregivers while their children receive medical care in area hospitals.