SPACE COAST RUNNERS 8 WEEK SUMMER SWEAT + RUN TRAINING PLAN presented by New Wave Physical Therapy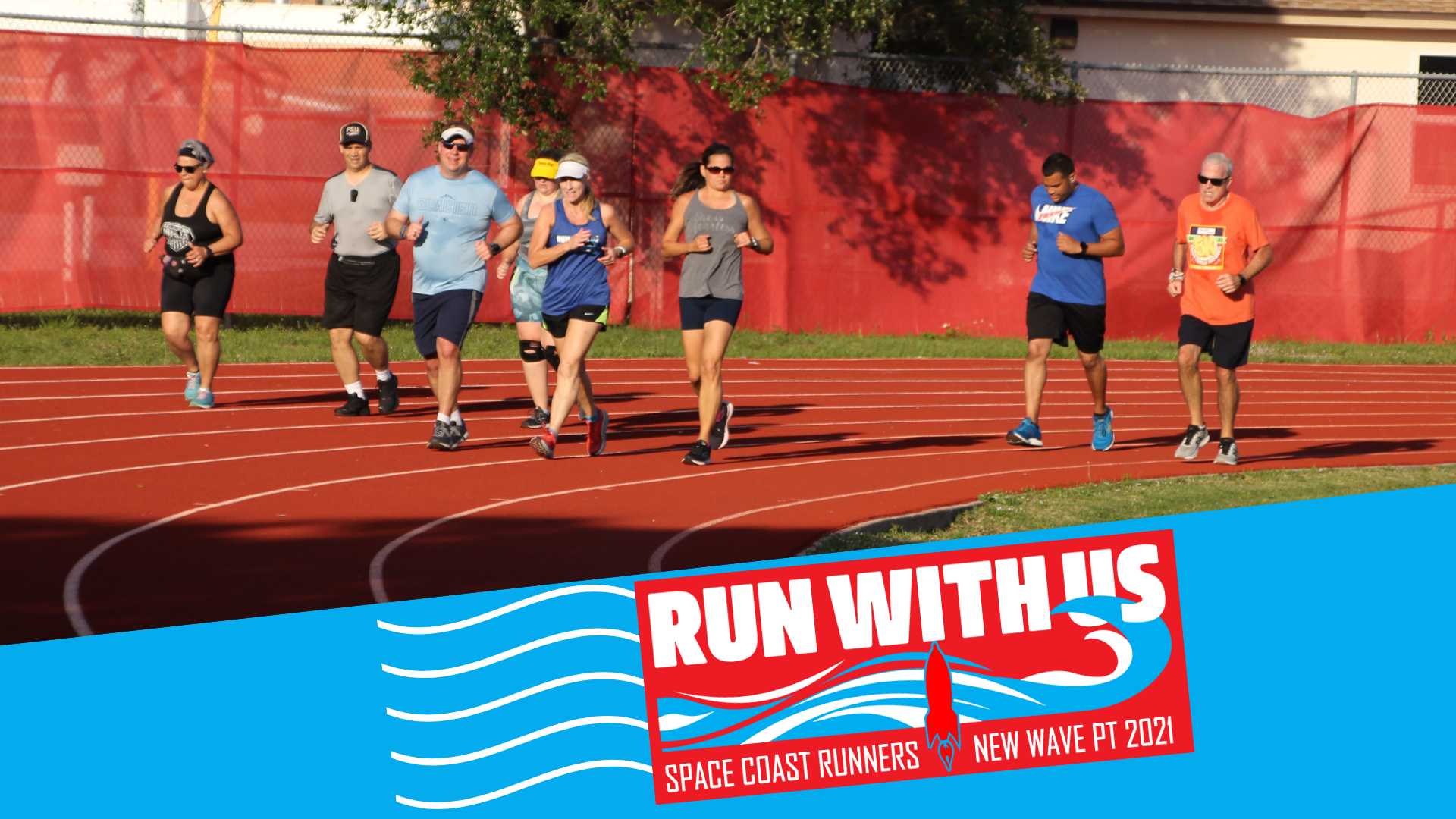 Looking for motivation during the summer months? Want to keep your fitness as you log miles in the heat?
Join fellow Space Coast Runners and Coach Kaitlin of New Wave Physical Therapy & Sports Rehabilitation for an 8 Week Summer Sweat + Run Plan.
You'll get a short break after the last race in the 2020-2021 Runner of the Year Series before gearing up for the new race season.

The 8 week plan will be accessible online in Training Peaks so you can follow it anywhere, anytime.

Will provide a solid training schedule from May 24 - July 31 for you to follow.

SCR will host open "Pop-Up Run Nights" for you to come train, talk to Coach Kaitlin and visit with fellow online members.

Plan ends on 7/31 which allows for a short break before we gear up for our Fall Training Camp that starts on August 10th.
If you've been interested in a SCR training camp but haven't made the leap, this is a great way to test the training waters. There are no set camp nights but you'll still have access to Coach Kaitlin Donner.
SCR Pop-Up Run Nights
(tentative)
May 25 Satellite High Track

June 8 Eau Gallie Causeway

June 22 Satellite Beach Housing Loop

July 13 Satellite High Track

July 27 Eau Gallie Causeway
Questions? Email info@spacecoastrunners.org.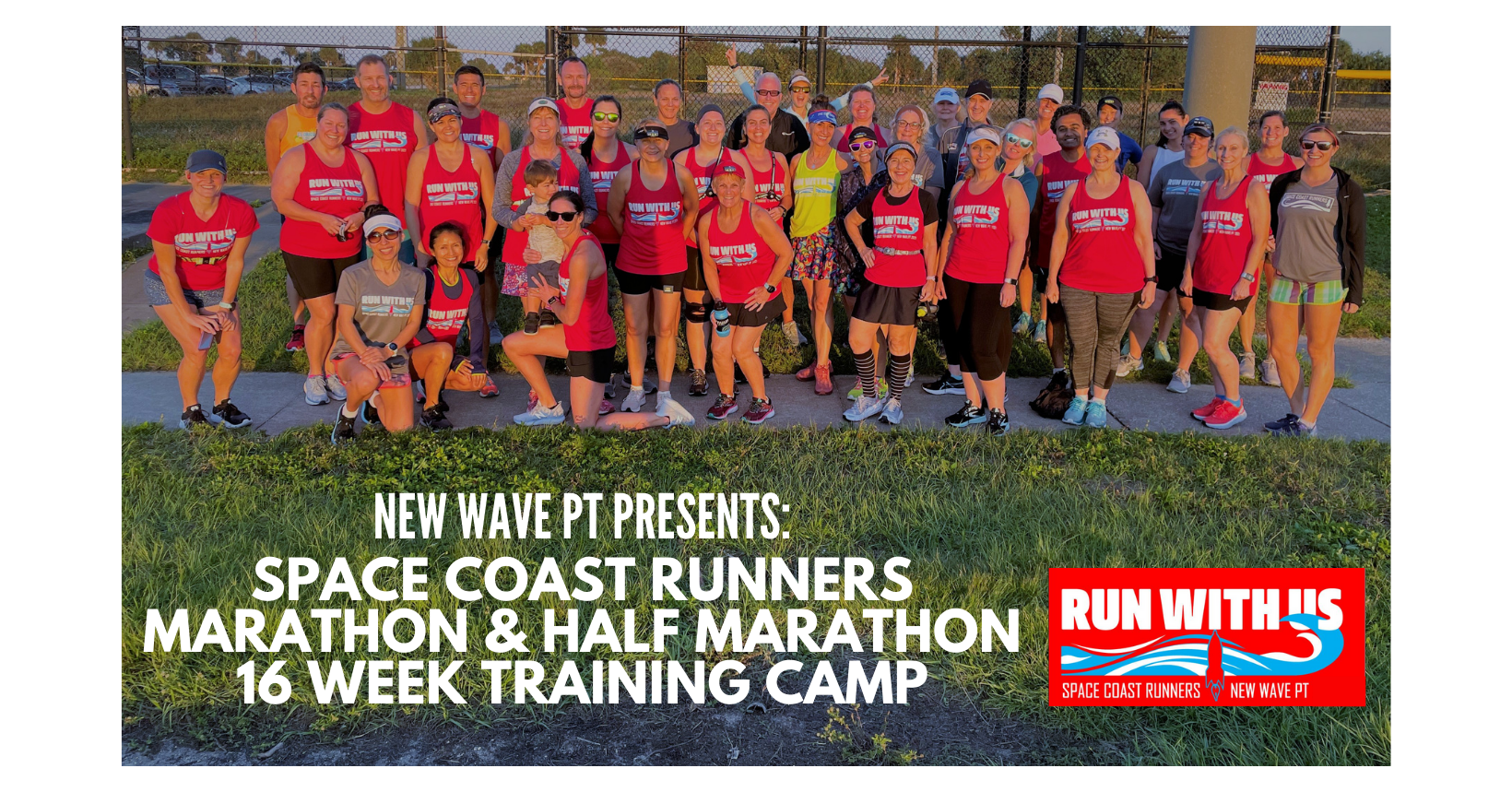 SPACE COAST RUNNERS MARATHON & HALF MARATHON 16 WEEK TRAINING CAMP presented by New Wave Physical Therapy
The Fall 2021 training camp will kick off the week of August 9th and run through Sunday, November 28th. Sessions will be held on Tuesdays at 6PM at Satellite Beach South Housing Loop and on Sundays at 6AM at rotating locations. There's an option Wednesday morning meetup at rotation locations at 5:30AM. We will have pace leaders for Sunday workouts too.
Athletes will receive:
Training camp tech shirt

Group Training atmosphere and runner education

Workout pace leaders

Personalized 16-week training schedule

20% of all New Wave services for duration of camp

Access to closed Facebook group for questions, encouragement and accountability
​Registration is opening on Monday, May 30, 2021. Cost is SCR members for $190 and $210 for non-SCR members until 8/1/21. Registration price increases by $20 until 8/10/21.
16 week training program is geared towards all running levels that will target the SCR ROY Series race, Space Coast Marathon & Half Marathon as the goal race.

Registration for the Space Coast Marathon & Half Marathon is not included with camp registration.

Coaching will be conducted by Kaitlin Donner, along with designated pace leaders.

BONUS! Add a 1-hour group strength session at New Wave PT & Sports Rehab. Session addresses common strength and mobility imbalances in distance runners.
​Meet the Coach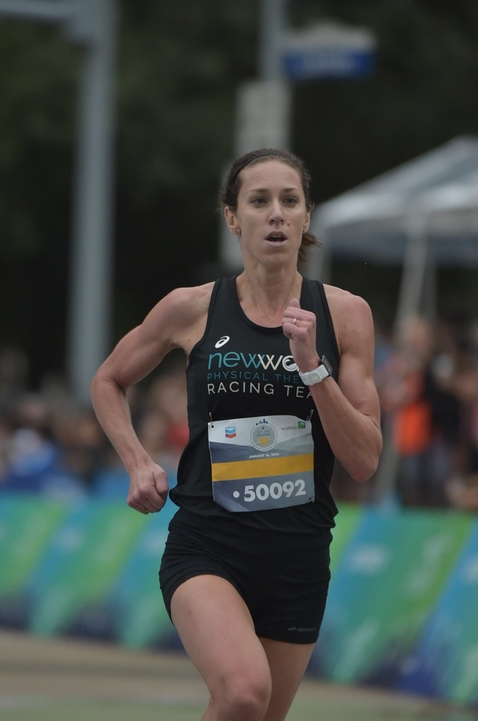 Kaitlin Donner is a Satellite Beach native who currently owns New Wave Physical Therapy & Sports Rehabilitation in Melbourne. Kaitlin graduated from Satellite High School, where she was a 4-time varsity letter recipient in cross-country, swimming and track. Upon graduation, she attended the University of Florida on a cross country and track scholarship and earned multiple SEC Championship team titles in cross country and indoor/outdoor track. After graduating with a Bachelors in Exercise Physiology, she stayed at UF for PT school, earning her Doctorate of Physical Therapy. Just prior to starting PT school, Kaitlin started racing triathlons and quickly earned her Elite license which allowed her to race professionally around the world and eventually qualifying for the US National Team for several years as well as competing in 2 Olympic Trials events. About two years ago she decided to step away from racing to move back to Satellite Beach full time to open an outpatient orthopedic physical therapy clinic to serve the athletes and active population of Brevard County.
---
ADDITIONAL LOCAL TRAINING CAMPS
Set Goals Not Limits by Doug Butler (Melbourne area).
Peak When it Counts by Up and Running Fitness. (Indialantic and Indian Harbour Beach area). SCR Member discount available!
RunKlub directed by Rebecca Sparks & Kara Springer in Central Brevard.
RunFit Runners by Ceal Walker (Cocoa Beach area).