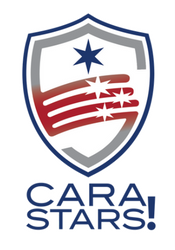 Since 1978 the Chicago Area Runners Association -- CARA, a non-profit organization has been dedicated to running advocacy in Chicago and suburbs. Starting as the local running club, CARA has grown into the organization that championed the running movement across Chicagoland. We help runners run better, farther, faster and with more fun by clearing paths to a wealth of training, social, outreach and advocacy programs, while promoting friendships and personal fulfillment.
The CARA Stars! Youth Club program aims to provide opportunities for young runners to improve their fitness and develop their abilities as part of a positive community of coaches and teammates where, through the power of the group, runners make gains in self-confidence, discipline and athletic achievement. Our team is open to youth, ages 6-15, of all abilities.
We are a member of USA Track and Field (USATF), a national organization providing opportunities and competition for young athletes. To be more competitive, kids may elect to run in community based events and/or USATF competitions. Meet participation is encouraged but not required.
Practices includes age appropriate instruction in technique, speed, agility, balance, core, and specialized event training.