The Strider Youth Program is back after a Covid hiatus!
We offer both a 10 week Youth Running Program and also shorter Youth Races at many of our Strider Races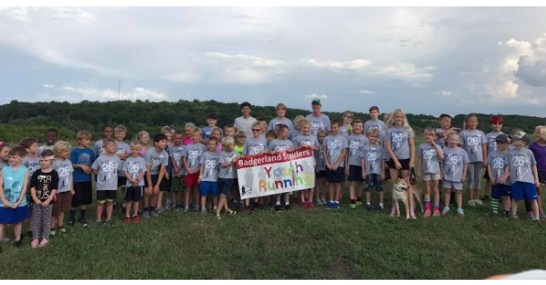 2022 10-week youth running program - Register Here
Our 10 week program is held on Tuesday nights starting July 26 through Sept 27 at Hart Park in Wauwatosa. The program is designed for ages 5-12. Our coaches will help inspire your young runners through games, encouragement and FUN! Every week, the group gets together at in front of the Hart Park Track in Wauwautosa, plays some "warm up run" games, has a brief life-lesson talk and finally goes for a group run at their own pace to help build up the miles. The Program caps off with having your child participate for free in either a Kids Only 1.2-mile or the LFM 5k run, which will finish through the Milwaukee Lakefront Marathon chute just before the marathon runners come through on October 2, 2022. The LFM 5K is open to the public so family and friends can join in
Each Child registered by Aug 2nd will be guaranteed an official Strider Youth Program t-shirt. Shirts will be handed out at the first 2 sessions. Shirts may not be available after August 2nd so sign up today.
While the Youths are participating, parents are encouraged to volunteer with the Youth Program as a pace run leader, or run with the Striders Tuesday Night Workout at the Hart Park Track group, or there is always the nearby Hoyt Park Landing Beer Garden
STRIDER YOUTH RACES
In addition to the Youth running program the Striders are working to add shorter Youth Races to our upcoming races
Saturday July 30 Cudahy Classic at Sheridan Park has the kids 1 mile race - register here!
Saturday Aug 27 Strider Half at Estabrook Park is adding a Youth Race - registration TBD
Sunday, Oct 2 Lakefront Marathon at the Summerfest Grounds has a 5K and 1.2 mile Youth Race - the 10 week Youth Program includes entry to these races - register here for LFM 5K for those not participating in the 10 week program
Saturday, Oct 29 Lakefront Discovery Run at the Milwaukee Lakefront is adding a Youth Race - registration TBD
Sunday, Nov 6 Turkey Trot at Whitnall Beer Garden has a 2 mile run and is adding a Youth Race - registration TBD
Sunday, Dec 4 Strider PR at Pettit Center is adding a Youth Race - registration TBD
This program would not be possible without the incredible donation of time and talents from the Badgerland Striders Running Club and the volunteers who care about keeping our kids happy and healthy through the sport of running. We look forward to working with your child(ren) and going for a run with you soon!