Group Leaders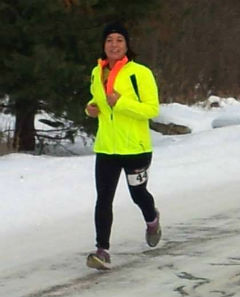 Monday – Janice Eagle – Joined SCS in March 2013. Prior to SCS, she had no previous running experience. She decided to start with SCS & committed to training with one of our first 5K training groups. Since committing to SCS she has ran one half- marathon, three 10ks, and many 5ks. What keeps her running? She will tell you, her love of food, of course! The stress relief and hanging out with a great group of people are an added bonus.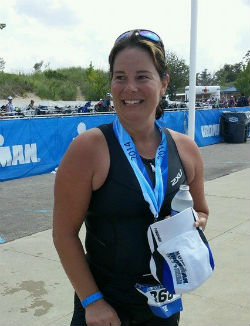 Wednesday – Dee Berry – RRCA Certified Coach. Co-Founder of Tri-Avengers. Ran track/cross country at Eastern Michigan University from 1987-1989, after which, got married, had 2 beautiful children and concentrated on community racing events. Mid 2000's was plagued with chronic overuse injuries which prevented her from running for 5 years. In 2013, she committed to participating in her first triathlon. After teaching herself to bike and swim that first year along with much physical therapy and rehab, she has now participated in 2 Ironman 70.3 distances as well as numerous sprint distances & is hoping to conquer the 140.6 distance in the near future. She joined the SCS team in the fall of 2013.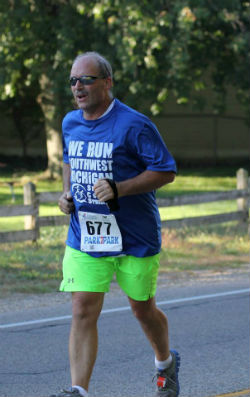 Saturday – Dan Reed – In 2013, at the age of 54, this Wisconsin native decided to incorporate running as part of an overall fitness program. Ran his first 5k in St. Joe and that is where he met other members of SCS. He found he really enjoyed road racing & within 6 months and training with SCS , he then ran his first half marathon. Wanting to go further, he then completed his first full marathon(Sunburst) in May 2014 in South Bend, IN. He attributes his loss of 75 pounds to running and weight training. Loves the friends he has made through SCS and running.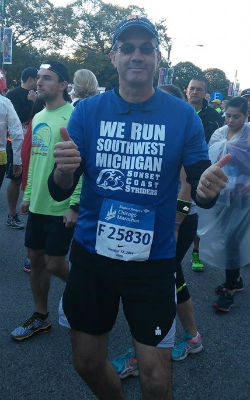 Jerry Jones – Jerry also had no prior running experience when he started running 8 years ago at the age of 46. Running seemed to be what appealed to him at the time (& still does). The early years were spent running on a treadmill. At one particular work out, he overheard some other runners talking about races. He decided to do his first race. It was the Grand Mere Grind which he jokes shows he had no idea what he was doing. Since beginning, he has run numerous trail races and 10k's. He ran his first marathon in 2010 and has ran a total of 6 marathons including the Chicago marathon. In 2012, he was asked to join in on the SCS first half-marathon training group. He's been with us ever since. He really enjoys meeting other runners. "I have never met a runner I did not like".
Group runs are scheduled on Mondays, Wednesdays, and Saturdays. Group swims are on Tuesdays and Thursdays. Group rides are held on Tuesdays, Thursdays, and Sundays. Throughout the year, SCS/Tri-Avengers also host various training runs for those wishing to conquer their first 5k, 10k, half or full marathon. SCS/Tri-Avengers is currently hosting their first Couch 2 Tri sprint training program geared for the Sister Lakes Triathlon in July. Please check our FaceBook page often as that is where you will find updates or scheduling changes announced.