Mojo for Running is my international running website where I post my two podcasts. You can listen by clicking here. On iTunes, listeners have the options of leaving a comment and rating the podcast. Check this testimonial from a runner in England.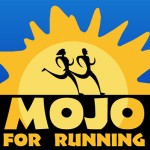 MojoforRunning.com provides all kinds of running information. Listen to the podcasts on the podcast page of that site (here) or subscribe on iTunes here. Topics range from how to increase the distance of your runs to how to prevent shin splints to buying running shoes and how to improve running form. Want to know how to plan your training schedule, ideas on how to stay motivated? There is even an episode with tips and tricks from runners all over the globe.
Available on Google Play Music, Stitcher Radio, iTunes Podcast app, pending on Spotify.
Beginner Runner Village Podcast
In late 2013, I launched a new podcast for beginners. It's the Beginner Runner Village Podcast, and it is the companion podcast for my new website, BeginnerRunnerVillage.com website. Also available on Google Play