Kim's Latest Adventure
Budzik: From Badwater to San Francisco x 2
By B. J. Almond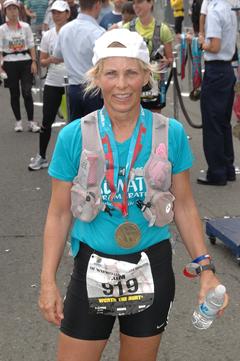 After completing the 135-mile Badwater Ultramarathon, what do you do for an encore? How about running a marathon course from the finish line to the starting line -- and then back to the finish?

That's what Houston Masters Sports Association member Kim Budzik did 10 days after she endured California's Badwater, which is known as "the world's toughest foot race." Badwater goes from Death Valley -- the lowest elevation in North America -- to the Mt. Whitney Portal -- the trailhead to the highest point in the contiguous United States. Runners can experience temperatures up to 130 degrees along the route, which has a cumulative vertical ascent of 13,000 feet. Even though blisters and hot spots on Budzik's feet forced her to walk the last 20 miles of the course, she still finished the July 16-18 event in 43:29:47 -- 11 minutes faster than her first Badwater effort last year.

The sore feet did not deter her from joining Houston's 93Q Country DJ Kevin Kline on July 29 to run the San Francisco Marathon course twice to help raise money for pediatric cancer patients and sarcoma research at Texas Children's Cancer Center via Kline's nonprofit Snowdrop Foundation.

The San Francisco Marathon is a loop course that includes the city's famous Fisherman's Wharf, the Embarcadero, Haight Street, Golden Gate Park and the Golden Gate Bridge, which runners cross twice. But Budzik couldn't see much of these iconic viewpoints the first time around because she was running in the dark.

She and about 40 others set out at midnight to run the course from finish to start so they could also run the standard marathon that morning. Volunteers were stationed along the way to help runners navigate and to provide aid, courtesy of Worth the Hurt -- the fundraising arm of the San Francisco Marathon.

"We were required to carry and wear night gear, so we were responsible for helping to ensure our safety," Budzik said. "A large portion of the course is run through a park, so traffic was not an issue at all."

Budzik kept track of her time only during the second marathon, but she thinks the first time around the course was faster. "During the midnight marathon we were running through several rough areas of San Francisco, so we probably picked up the pace quite a bit while running through them," she said.

She bonded with another Houston runner, Jennifer Evans, and they ran a few "bonus" miles when they and several others got separated from the group and veered off course. "That's what made the adventure more exciting and fun!" Budzik said. "But we had to push it a little harder to get back in time to eat and change clothes prior to beginning our successful second marathon around 6 a.m.

"Strange as it may seem, I really did not see that there were any challenges to running the San Francisco course back to back," said the 52-year-old professional assistant at the law firm of Vinson & Elkins. "I had rested all day the best I could, so I was not concerned about the lack of sleep.

"During my training for Badwater, I had numerous runs where I would go home on Friday after working all day, sleep for an hour and then head out at midnight with my husband to run through the night and into the next morning," she said. "I view my training runs and races as an opportunity to help improve my physical and mental stamina. After running 135 miles at Badwater, running back-to-back marathons did not seem so overwhelming"

Although Budzik has qualified for and run the Boston Marathon several times, she chose to run the San Francisco Marathons for fun and not for speed. Her chip time for the second marathon was 5:34:54, but a number that was more important to her was the $1,550 she raised for the Snowdrop Foundation through Worth the Hurt, thanks to generous co-workers and friends.

"Although I might have been tired, I always knew that I would be able to rest," Budzik said. "Children and their families who are dealing with cancer do not have a choice. So in San Francisco, we ran in honor of those children and families whose lives have been affected by pediatric cancer."

Budzik also raised $8,025 for the Challenged Athletes Foundation via her participation in Badwater. "We run for ourselves, but somewhere along the way, we learn that our runs are greater than ourselves, and it's a good feeling to be able to give back," she said.

And speaking of Badwater, Budzik is already thinking about 2013. "I have sought medical expertise and better shoe choices that will work for my feet," she said. "If I am accepted, I will be much more prepared and wiser as to what will be waiting for me on the 135-mile stretch of highway between Badwater and the portal of Mt. Whitney. Third time will be a charm!"