kim's badwater experience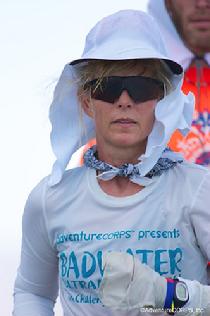 I definitely earned the coveted Badwater Ultramarathon belt buckle, finisher's shirt and medal this year! 2013 was hotter than the past two years that I have had the opportunity to run and finish Badwater. The road temperature was recorded at 175, and the air temperature was 122. However, the high winds that greet us beginning at mile 42 as we begin a 17-mile ascent up Townes Pass are relentless. There is no reprieve from the sun and heat, and the goal is always to keep putting one foot in front of the other. It has been compared to standing in front of an oven with someone blowing a hair dryer on you at full blast! To keep my body and core cool, my crew provides me with ice bandanas that go around my neck, under my hat, and sometimes in my sports bra, and since the ice melts so quickly, they replace them every couple of miles. I also put ice chips in my mouth, and my crew takes turns spraying my body with cold water. When the sun sets, there is some relief from the heat until the next day. But until then, I just run in awe and amazement as the sky at night is truly amazing and breath-taking with all the stars.

The second day was much easier for me both physically and mentally than the first. I had to deal with a couple blisters on each of my big toes, but overall my feet were good. I had some issues with shin splints but with the help of compression, I was able to keep going. As always, my amazing and wonderful husband, Tim, took great care of me. I had an incredible crew of Steve Maliszewski, Bruce and Jennifer Evans from Houston and Robert Kania from Las Vegas. They were each my very favorite crew member and pacer! Although there were some rough times out there, they always encouraged me to keep moving forward and to keep eating even when I didn't want to! They believed in me along with my family, friends, other Badwater athletes and virtual "friends" who I knew were cheering me onward and up the mountains! This is what helped me to persevere and cross my 3rd finish line at the Mt. Whitney Portal.

I plan to apply again for my 4th Badwater in 2014 as it has gotten in my soul and continues to lure me back for more! Over the three years that I have participated in Badwater, I have raised almost $30,000 for the Challenged Athletes Foundation thanks to the generosity of many of you reading this story. CAF helps people with physical disabilities by providing support, mentoring, and grants for adaptive sports equipment, competition and training expenses, physically challenged athletes are able to become whole through sports. In fact, immediately after the Boston Marathon bombings, CAF reached out to the victims to let them know that when they are ready, CAF is available to support them in their recovery so that can participate in sports – and in life – once again.

To be considered for Badwater 2014, the race director requires that finishers also complete additional ultras in order to be competitive with the incredible field of athletes who will submit their applications for the race. The field is limited to 100: 50 rookies – meaning they have never participated in the Badwater Ultramarathon and 50 veterans – meaning they have previously participated in the race. Thus, I will compete for 1 of 50 opportunities to run this race again! Knowing that this was the criteria expected of me, many months ago I signed up to run the Berlin 100-mile race which will begin on Saturday, August 17 and will circumnavigate the area around the old Berlin Wall. I am one of only two American females running this race!

The cost of my participation in Badwater is enormous and is truly considered an expedition. There were some unforeseen expenses this year associated with Badwater, and although I began searching for airline tickets to Berlin many months ago, I was hopeful that prices would drop. Unfortunately, they have not, but fortunately, a sponsor has come forward on my behalf and I am so grateful. My tentative plan is to to arrive in Berlin on Wednesday or Thursday prior to the event, run 100 miles beginning on Saturday, August 17, and then return to Houston on Monday afternoon or Tuesday following the race. It is an opportunity for me to complete a 100-mile race so that I may once again be considered for the Badwater Ultramarathon and support the Challenged Athletes Foundation through my athletic endeavors.

Thank you as always for being a part of my Badwater journey and adventure.