The Course
Certification code for the HMSA Classical 25K is TX14138ETM.
The 25K race course is a triple loop run mainly on concrete. The race begins at Prairie Ave and Bagby St. It traverses three loops of Memorial Drive between Bagby and Shepherd. Finish line is on Texas Ave. in front of The Wortham Center.
The course will close at 10:30 am If you have not completed your event, you will be asked by Houston Police to leave the street.
There are water stations approximately every 2 miles.
Qualified EMT and AED personnel are at the finish line and along the course through radio communication.
Post-race activities will be held on Jones Plaza.
HMSA Classical 25K * 25 Killometers * USATF Certification TX14138ETM
Effective 08.29.2014 to 12.31.2024
Measured by Tom Stillwell 07.08/09.2014 * Houston, Tx
Map not to scale * No restrictions
Couse Description
* From Start - Cross Bagby SL and enter Memorial Dr. WB,; continue west to Shepherd Dr.; U-turn at Shepherd to Memorial Dr. EB; continue east to Bagby St.; U-Turn on Bagby St. to Memorial Dr.WB.
*Repeat Bagby-Shepherd-Bagby loop 2 more times (a total of 3 loops)
*On third loop (last loop) cross Bagby St, and continue on Texas Ave. to Finish.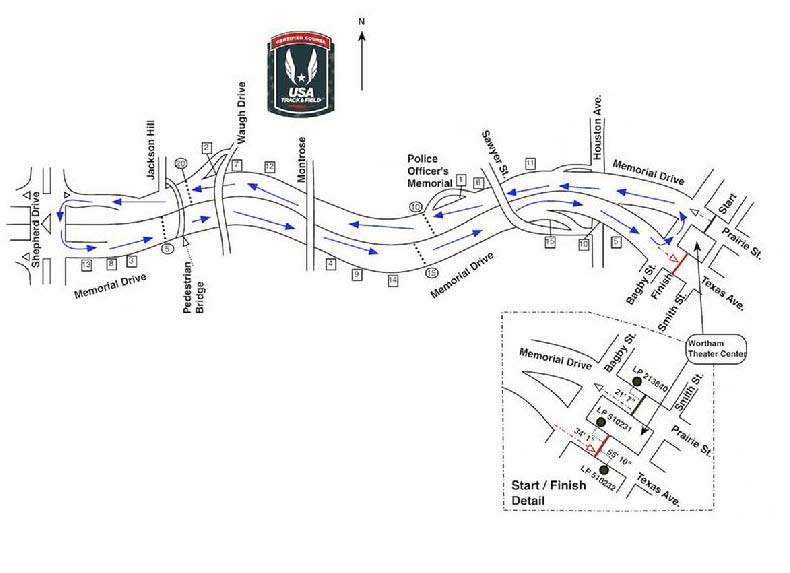 Certified Points
Start - On Prairle,21'7" east of LP 213840 at east end of bridge.
Finish - On Texas Ave.34'1" east of LP 610231,55' 10" west of LP 510232
Measured Points
Mile 1 - On Mem. Dr. WB,at Police Officer's Memorial, 15' west of a single storm drain
Mile 2 - On Mem. Dr. WB, under Waugh Drive, 50' east of LP 207179
Mile 3 - On Mem. Dr. EB, across tram clock tower at Bayou Park Apts, 12" east of LP 207134 KM 5 - On Mem, Dr. EB, 20' east of LP 207140
Mile 4 - On Mem. Dr. EB, 40' west of LP 209320
Mile 5 - On Mem. Dr. EB, on overpress at Capitol Ave, 75' east of LP 213828
Mile 6 - On Mem. Dr. WB, just west of Sawyer overpass, 30' east of a fire hydrant KM0 - On Mem. Dr. WB, BB'1" west of LP 209331 at Police Officer's Memorial.
Mile 7 - On Mem Dr.WB,at LP 207214 just east of Waugh Dr.
Mile 8 - On Mem. Dr. EB,30' west of LP 207126
Mile 9 - On Mem. Dr. EB,32' west of LP 209312 KM 15 - On Mem. Dr. EB,23' west of LP 209329 (on WB slide), 115' 4" west of LP 209330
Mile 10 - On Mem. Dr. EB, @ Houston St. overpass,55' west of LP 213822
Mile 11 - On Mem. Dr. WB, near Silver St, 43' west of LP 208351, 78' easy
Mile 12 - On Mem. Dr. WB, 50' east of LP 209294 KM 20 - On Mem. Dr.WB, 53'5" west of LP 207142 (LP @ Waugh Entrance Ramp), 78' east of LP 207141
Mile 13 - On Shepherd Dr. entry ramp, 50' west of LP 207118
Mile 14 - On Mem. Dr. EB,just west of old rr trestle,95' west of LP 209304
Mile 15 - On Mem. Dr. EB @ Sabine,68' west of LP 209366.