Houston Running
Links to Houston Running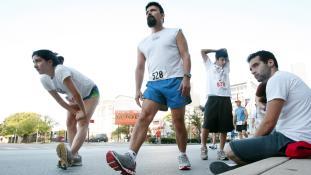 ---
Local Run Shops
Are you looking for a new pair of running shoes or a smashing little running outfit? Support your local running store. Not only will you get great advice you will also find the latest shoes. Most if not all of these stores offer discounts to HARRA members. What? Your not a member of HARRA? Well now, isn't this a good chance to become a member? Grab that credit card and come Right this way.

Fleet Feet Sports Jim Braden started this Houston franchise years ago in the Rice Village. There are now five Fleet Feet stores in the Houston area. Knowledgeable staff are always a great help when those shoe manufactures decide to discontinue your favorite shoe and you are desperately looking for a replacement. HMSA members receive a 10% discount at all Fleet Feet Houston stores

On the Run, with locations in Clear Lake and Beaumont is owned and operated by Jay Lee who is also an active local race director. They will fill all your tri needs, including bikes.

Finish Strong is Houston's newest run shop. Their sales personnel are devoted to helping you get the right fit for whatever sport you're enjoying.

And The Rest of The Running World.......
Runner's World Who hasn't read some part of Runner's World? You know what they have...Running....only their online magazine is even more up-to-date. No need to say anything about Runner's World as everybody knows them.

UltraRunnning OnLine UltraRunning is devoted to covering the sport of long distance running, also known as ultramarathoning, or, as we prefer, ultrarunning. How far is "a long distance"? The standard definition is anything past the marathon, or 26.2 miles. However, the shortest standard distance that is considered an ultra is the 50 kilometer distance, or 31.07 miles. Other standard distances are the 50 mile, 100 mile, 100 km, and a series of events that last for specified time periods such as 6 hour, 12 hour, 24 hour, 48 hour, and 6 days.

The Running Network Want to find a regional magazine? The Running Network is composed of several magazine members throughout the country. This is really great for locating a race or a contact when traveling. I often look here to find out the not so national stuff.