Occasionally we find news items that we feel are of interest to the general running population and we would like to share those with you. We welcome your additions. Send to hmsa@houstonmasters.org. HMSA member Ed Thompson sent us the following essay by Dr. George Sheehan, a runner, philosopher and author. Dr. Sheehan died in 1993 and his work is being carried on by his family. His books on running are still relevant.
Running into Old Age
"What I have lost I can afford to lose. What I have gained is something I cannot do without."
I first came upon the aging process in a race.
I felt no sense of advancing years in my day-to-day activity. My work week was unchanged: I wrote, I traveled, I lectured. Some people marveled at my energy and endurance. It was my weekend race that finally told me I was no longer young.
The changes that come with age are subtle-but not to a runner. My 10-K time measures me quite accurately. Any change in performance dictated by age is precisely recorded in minutes or seconds on the digital clock at the finish line.
"Crumbling is not an instant's Act," wrote Emily Dickinson. And the physician in me knows that almost 90 percent of my liver has to be damaged before its impairment is apparent. The body has enormous reserves to call upon. But in the race, I call on all my reserves. I am operating at full throttle. The least diminution in function becomes evident.
The race, therefore, is the litmus test for aging. Long before anything else goes, race times signal the approach of the last stage of life. A look at my weekly race results will tell you bluntly that I am no longer middle-aged. I am now a full-fledged citizen of the country of the aged.
Three years ago when this happened, I refused to believe it. Running had been my fountain of youth. For years I thought it was inexhaustible, like the never-empty cup of coffee some restaurants offer. After I began running in my 40's, I quickly became 32 years old and stayed that way. Decades came and went, and I was still in my prime.
When my 10-K times slowed down and I began to run personal worsts instead of personal bests, I took stock. It was not age, I told myself. I had been 32 years old for the previous 20 years and did not intend to get older. All I needed was more training, some hills and speedwork, and I would be back to my best.
I took up arms against age. I increased my training and within a single Thanksgiving holiday ran four races. Each race I ran a little faster than the previous one, but never near the times I had registered the year before. And I was no longer in the top third of the field-now, I was well back in the second half of the pack.
How did I feel about all this? Terrible. And don't remind me that most people my age have run up the white flag. Do not tell me I can still outrun the average person twenty years younger than me. Do not point out that age has compensations that will more than pay for the lost few minutes in the race.
I am rebuilding my life on those thoughts. But first, help me bury the runner I once was, and then we can talk about what the future holds.
Apparently, it still holds plenty. My initial depression has receded. I realize now that there are more things at stake than setting a personal best in a road race. I can even answer truthfully (and this is the most difficult part) when someone asks me, "What was your time, Doc?"
My times continue to get slower and slower. And, therefore, the "me" that I am is different. But the me that I am has developed insights and wisdom that I did not have before. What I have lost I can afford to lose. What I have gained is something I cannot do without.
The race, however slow my times, remains an ever-changing learning experience. Whenever I race, I learn something new about myself and those who race with me. I will never be 32 years-old again, but it no longer matters, because I've learned that winning doesn't matter, it's running that counts. And when I push to the limit, I am a boy again-an untried youth listening to the wisdom of my body. Copyright © The George Sheehan Trust
June 13, 2008, 9:14AM?A perfect running partner By MICHELLE CASADY?Copyright 2008 Houston Chronicle Photo by KEVIN FUJII: CHRONICLE

When German Collazos says he plans to run up to see his daughter in college, he means it literally. Collazos plans to drive to Huntsville State Park, then run — jogging shorts, tennis shoes — the final six miles to Sam Houston State University, where his daughter, Sara, will be a freshman this fall. The two will then run back together for a longer jog through the park."It'll be great," Sara Collazos said recently. "I'll have someone to talk to, and it'll be like every other weekend. My dad knows me better than anybody."

Sara and her dad have logged many hours of conversation on the trail already, and the father-daughter running experience has provided ample memories. For example, Father's Day will always remind Collazos of what it was like to lose a race to his daughter.

"The first time she beat me in the 5K was three or four years ago at a Father's Day race," he said. "She beat me by about 100 meters. That was her Father's Day gift to me: Beating me."Having his training partner move away isn't the only obstacle Collazos has had to overcome in his running career.

After overdoing it one day during a training session, he suffered a torn meniscus. It took two surgeries and one year of recovery time to correct the injury.

Collazos ran his first marathon since the surgery last month in Cincinnati. "It was a slow marathon because I just did it without training," he said.

Even during his nearly yearlong recovery, Collazos still found a way to spend time with his daughter."When I couldn't run I would still train with my daughter," he said. "She would run and I would ride my bike. The doctor told me that would be OK as long as I had no impact on my knee."

Sara's interest in the sport continued to grow and even led to her getting a scholarship from Sam Houston to run cross country.

Collazos' other children, Daniel, 20, and Andres, 14, enjoy running on occasion. But he said other things interest the two more. "Andres will run with me sometimes," he said. "Not too often, though. He's too busy with the Nintendo." Waking up early is also something Andres isn't too fond of. As for Daniel, he's developed an interest in bodybuilding so he doesn't run very often either. "He ran with me until he was about 16," Collazos said. "He'll still run with me sometimes, just not competitively."

Collazos, who got involved with running in part because his wife was an active runner, will travel to France in September with a small group of Houston runners to participate in the Marathon du Médoc. "They have wine samples at the wait stations. So I'm training," he said, laughing, "drinking wine and running to make sure I'll do OK."

Collazos said he has no intention of slowing down, even after logging thousands of miles, including seven 100-mile ultramarathons, and undergoing two knee surgeries. "My goal is to run until I'm 100," he said, "so I have 50 more years to run." And, he added, "I would love to continue on this tradition to the next generation of my family."

michelle.casady@chron.com
Celebrating 35 Years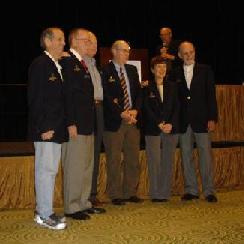 At the Marathon Pasta Party, three HMSA members were privileged to be inducted into the inaugural Houston Marathon Hall of Fame. Tom McBrayer, Mary Anne McBrayer and Jack Lippincott were honored along with Pete League, David Hannah and Jim Ketelsen. The marathon committee felt these individuals had made a "significant contribution" to the event.

"In order to honor those who have helped bring the Houston Marathon from its humble beginnings to its current status as one of the nation's premiere marathons, the Houston Marathon Committee has established the Houston Marathon Hall of Fame." Each year the marathon "will recognize a few individuals who went above and beyond the call of duty to make the Houston Marathon a success."

Pete League was the founder in 1972 of the marathon; David Hannah served as Race Director from 1980 to 2002; Jim Ketelsen was CEO of Tenneco, Inc. and gave the marathon its first major sponsorship. Tom and Mary Anne McBrayer were committee members and volunteers for over 25 years and each served in several capacities. Jack Lippincott has now completed 33 consecutive Houston marathons and keeps track of every participant who has ten or more finishes at the Houston Marathon.

In case you didn't recognize the names, Tom, Mary Anne and Jack are the HMSA members and are very proud to be included. All inductees received navy blue blazers embroidered with the marathon shoe logo and the verbiage "Houston Marathon Hall of Fame 2007."

Pictured Left to Right: Jack Lippincott, Pete League, Jim Ketelsen, David Hannah, Mary Anne McBrayer, Tom McBrayer
Thirty-Five Years of Running EndsBy Fred Price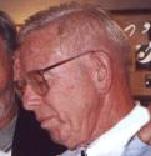 "At age 80, I won't be able to complete the Houston marathon." That was the first thought I had when I realized that my running days were over. After two falls that ended in trips to the ER, my wife and I decided that continuing to run was dangerous. My 34 years of adult running, covering 51, 864 miles (per my daily running log) were over.

Many of my 410 competitive races happened in the Huston area, with a brief stretch in New York and the last five years in hilly Nacogdoches. I represented Houston Masters Sports Association in over 100 races. Competing in age groups from 45-49 to 75-79, I earned 43 first places, including three in the 51 marathons I completed.

Highlights of my running experience include getting to know Dr. George Sheehan in New York and running eight miles with Eric Segal. This author of Love Story sings as he runs; first place in the Conoco Rodeo Run at age 73 and getting my picture taken with Bill Rogers and Frank Shorter, both of whom I had met before; first place in the 2003 Houston marathon after reaching age 75.

My reflection on my running history also includes four years of track at Carnegie Tech (team captain in 1951) and the innumerable friendships with other runners over the years. I must mention the patience of my wife, Wilma, for all those hours I spent on the road, and she won first place in a 5K race in the 60+ age group.
Thirty-Five Years of Running EndsBy Fred Price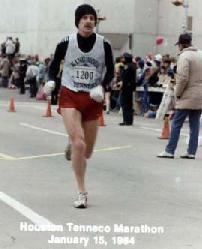 Influenced by his father, who founded the Atlantic City Marathon in 1959 and using experiences from organizing road races in Northern California, Texas, and Ohio, Pete League founded the Houston Marathon in 1972. Pete has been a long time road course measurer, measuring since the early 1960's. Austin, Texas is now home to Pete and his wife Lynn.

In 1984 Pete League runs the race he first created in 1972.The humidity…WOW! I was new to Houston looking for a house to live in, having been transferred with Shell Oil Company from a much more temperate climate of the San Francisco Bay Area. With a couple of free hours available in between appointments, I thought that a ten mile run might be a good way to stretch my legs and discover some of what Houston had to offer. I soon found Houston's Memorial Park and parked in the picnic loop area, by chance, came across an excellent running trail nick named the Ho Chi Min Trail, which is a very appropriate naming. In fair shape at the time, I still found myself stopping to recover fairly often because of the sauna like heat and humidity. My ten mile run was quickly shortened to five miles.

Where are all the races? Asking around, I could only find a rare race or two. To the best of my recollection, there was a two mile affair in McGregor Park, a half hour run on the track at Rice University, and the Galveston Marathon. That was it for running events in Houston in the early 1970's. "How would you like to chair the long-distance running committee (of the AAU)?" Nancy Laird asked. Nancy was the then-current chairperson.

In June 1972 I set out to develop a program of distance running events for the AAU. Setting a goal of having a race at each of the championship distances, 5 km, 10 km, 15 km, 20 km, 25 km, 30 km, one hour, cross country, and marathon, we got started. We also kicked off, in 1972, another popular event: a summer series of long-distance all-comers races on the track at Rice University. Leonard Hilton, the anchor member of the University of Houston's world indoor record distance medley relay team, ran Houston's very first four minute mile during one of those all-comers meets in the early 1970's. The 30 km, held in Memorial Park during the fall of 1972, was our first AAU Championship event. There was no defined, well-groomed, and lighted running trail in those days, just a narrow path created by the few joggers and runners of the day.

"Fred, I want to put on a marathon and can you help me identify a sponsor" Fred Johnson, a stockbroker and runner, found a generous and supportive contact at Igloo Corporation. Igloo was the first Houston Marathon sponsor, coming up with just enough cash to get us going and providing Igloo coolers as prizes for every finisher.

Focus on the basics. Marathon organizers wanted to ensure a safe, accurate course, so the first Houston Marathon consisted of five 5 mile loops within the Memorial Park area, as well as a finishing mile and 385 yards. The start was on Crestwood Street and the finish was at a point just to the east of the old tennis center. A hand made "digital clock", manned by a couple of volunteers gave runners 5 mile split times. It was a heavy cardboard sign with the hour and minutes being changed as time progressed, and the seconds were called out by the volunteers. So, a runner would see something like 2 HOURS, 15 MINUTES, and he or she would hear the exact time, say "2 – 15 AND 52 SECONDS". A complete set of results, including every runner's 5 mile split times were printed and distributed. The course had been defined and measured using the bicycle wheel measurement standards and measurements and supporting data were sent to Ted Corbitt, the national road course certification guy in New York, who certified the course as being accurate. Local runner Don Slocomb helped me tremendously in that effort. On race day, we had less than minimal police assistance , just the assistance of a lone motorcycle officer.

Memories of Boston… When I ran my first marathon at Boston Marathon in 1960, the tradition was for all the finishers to enjoy a beef stew dinner in Boston's Lenox Hotel. Boston's finish line, after a final right-turn from Commonwealth Avenue, was in front of the Lenox Hotel on Exeter Street. So, I thought, "Why not provide a beef stew meal for our Houston Marathon finishers?" After contacting a former Campbell Soup Company colleague, we had as many cases of Bounty Beef Stew as we needed. Father Lynch of Saint Theresa's Parish in Memorial Park was kind enough to let us use the church hall as a pre- and post-marathon gathering point. One of my fondest memories is of Harry and Gloria McLeod, Lynn League, and Mary Anne McBrayer dishing out plates of beef stew and other food goodies provided by Kroger's (which, through those early years, generously supported the Houston Marathon). And then there was Tom McBrayer, after having completed the marathon, helped to mop the floor after everyone had left. Sadly, we lost Harry several years ago, but Gloria, Mary Anne and Tom happily remain as very close friends.

About the race itself: The first Houston Marathon was held on the last Saturday of 1972, December 30th. Danny Green of The Woodlands, TX and co-founder of the Houston Harriers was Houston's first winner running 2:32:33. About 75 or so runners completed the race. The fastest finishing mile (and 385 yards) was turned in by two Rice University students who later gained national recognition: Jeff Wells and John Lodwick. In fact, in 1976 Jeff won Houston in 2:17: 46 and in 1978 he finished in one of the closest second-place finishes in 2:10:15 in Boston Marathon history, only 2 seconds behind Bill Rogers.

A side note about one notable 1972 marathon entrant: A couple of weeks before the marathon I got a call from Dick Peebles, a long time and very popular sports writer with the Houston Chronicle. Dick said that he received a call from a runner by the name of Frank Stranahan who wanted to know how to enter. Naturally I told Dick that as far as I was concerned, I could enter Mr. Stranahan right then. For the golfers who might read this, they will remember that Frank Stranahan was one of America's finest amateur golfers in the 1940's and 1950's, winning 70 amateur championships. Frank also finishing second to Ben Hogan in the 1953 British Open. He was a devoted physical fitness guy, carrying a set of weights with him while traveling to golf tournaments. After retiring from competitive golf in 1965 or so, Frank took to running marathons.

In 1984 Pete League runs the race he first created in 1972. That same year, Charles Spedding of Great Britain won in 2:11:54 and Norwegian Ingrid Kristiansen ran an incredible 2:27:51, she still holds the record for the fastest women's time at Houston.

This article originally appeared in USATF/RRTC - http://www.rrtc.net/ - Measurement News Fall 2006 Issue 133 20
Thirty-Five Years of Running EndsBy Fred Price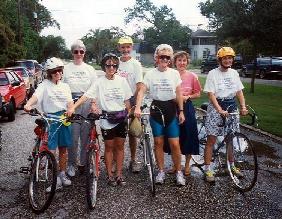 Like most marathons of the time — at the beginning of the running boom — the Houston Marathon started small. There were less than a hundred finishers for that first five-mile loop-course event held in a local park in December 1972. Unlike most marathons, the Houston Marathon was fortunate to have as its first director, an experienced runner and talented administrator. His name was Pete League and he had recently transferred to town from New Jersey via California. He brought with him a strong AAU (Amateur Athletic Union) background. AAU was the USATF of the day, the national governing body of the sport.

Pete had already directed several of the standard distance events in Houston — 15 km, 20 km, etc. — so the marathon was the logical next step. He measured the 5-mile loop using one of the early Jones counters and Ted Corbitt certified the course.

Interesting side note: Pete had measured an Olympic Marathon trials course in Santa Rosa, CA in 1968. It turned out to be a fast course. In fact, the times were so fast, he was asked by Ted Corbitt to measure it again. It checked out OK.

The Houston Marathon used that 5-loop course in 1972, 1973 and 1975. There was no marathon in 1974. In 1976, George Kleeman measured a 3-loop course, which included portions of the original 5-loop course while expanding into an adjoining neighborhood. George took over as race director in 1977 and continued through 1980. During his tenure, he brought on board a major sponsor, Tenneco, and measured a new 2-loop course. This course was to have a start and finish in the downtown area and utilized the comforts of a city convention center.

The 1979 event served as the AAU National Marathon Championships. The male winner was Tom Antczak with a time of 2:15:28. Sue Petersen (CA) was the female winner in 2:46:17.

In 1980, a 10 km run was held in Houston that featured Jeff Galloway, the 1972 Olympian. Jeff was the winner, as you might imagine, with an outstanding time. Jeff promptly told the race director the course he ran was not a 10 km — it was short. The resulting investigation revealed the cal course used for the measurement was 50' short of the presumed ½ Mile distance. All the recently certified courses were immediately suspect including the '78, '79 and '80 marathons. The cal course was immediately corrected by a professional surveyor using an EDM.

The two-loop courses continued through 1985 with slight variations as the marathon continued to grow in size and the prize money started in 1982. It even attracted Bill Rogers in 1981 when he ran 2:12:20. In 1982 Benji Durden (CO) ran a 2:11:12 and took home $28,750 for his first place.

In 1980, George's job took him to California and direction of the marathon was taken over by David Hannah who served in that position until 2001. On David's watch, a big breakthrough came in 1986 with a citywide course, starting and finishing in the downtown area and visiting a number of neighborhoods — all with the blessing of City Hall.

A bit of background: In 1984, a delegation from Houston was invited to visit the New York City Marathon as guests of Manufacturers Hanover bank. At that time, Manny Hanny was sponsor of the NY Marathon as well as of the Corporate Challenge, a 3.5 Mile worldwide event aimed at corporations and Houston was one of their venues. Representatives of the Houston Marathon, Houston Police Department and the mayor's office rode in the lead vehicle to observe how a big citywide marathon worked. They took good notes. The City of Houston, including all departments, offered full backing, realizing the advantages of involving the various neighborhoods.

A new convention center to replace the aging facility the marathon had used for over a decade, opened in 1987. Although it would involve yet another course change, the marathon committee made the move without hesitation. The new location adapted quite well to the existing concept, a citywide course with a start and finish convenient to the center. The 500,000+ square feet available floor space served both pre- and post-race activities including a pre-race expo.

This 1989 citywide course would serve as a model for future Houston courses. Most of the minor changes over the years would be because of construction.

With the Olympics coming up in 1992 (Barcelona), USATF had awarded the Marathon Trials to Columbus (men) and Long Beach (women). Unfortunately, Long Beach lost their sponsor and had to cancel out. Houston was asked to take over and host the Women's Trials in January 1992.

Continuing the tradition set at the Women's Trials in Pittsburgh (1998), a team of four measurers — Amy Morss, Elizabeth Langton, Betsy Hughes and Carol Langenbach — rode the marathon course for validation early on the morning of September 15, 1991. They were accompanied by Tom McBrayer, the measurer of record, and Carol McLatchie, Chair of Women's LDR and the USATF representative to RRTC. Final calculations showed the course (based on the tightest ride) to be 53 meters over marathon distance. All standard validation procedures were followed including use of constants without the SCPF.

The Trials themselves, held in conjunction with the Houston-Tenneco Marathon but starting 30 minutes earlier, proved to be a real race. Janis Klecker, the eventual winner (2:30:12) had turned around at Mile 15 to assist Cathy O'Brien who had taken a fall. Cathy wound up second (2:30:26) and Francie Larrieu (2:30:39) placed third.

The Houston Marathon growth has been steady over the years topping 4000 finishers in '95, 5000 nine years later. A 5 km was added in 1995, which proved popular with spouses and relatives of the marathoners as they waited for the marathon finish. It started a few minutes after the marathon, utilizing the same start and finish and the course was designed to actually coincide with the marathon for about 2 km, making these runners feel a real part of the day.

The half marathon which debuted in 2003, was an instant hit with runners not quite ready for the full distance. And, as happened in many other cities, in 2006 there were more finishers in the half than in the marathon — 7236 to 5414. The course was the same as that for the marathon with an appropriate turnaround and it, too, used the same start and finish. The half starts at the same time as the marathon, adding to the excitement.

Over the 35-year history of Houston's marathon, 11 course numbers have been assigned to the 42.195 km distance. Prior to the early 1980's, during Ted Corbitt's reign, numbers were not assigned. A course was measured and paperwork submitted to Mr. Corbitt who reviewed all measured courses and issued a certificate but no numbers were used. Houston's first numbered course was in 1984.

Very few changes were made to the course during the 1990's and, to date, those few were made to accommodate Houston's ongoing construction. And that seems to be the pattern for the foreseeable future. The growth of Houston's light rail system and rebuilding of major arteries in and out of the downtown area promises future measurers a full plate.

This article originally appeared in USATF/RRTC - http://www.rrtc.net/ - Measurement News Fall 2006 Issue 133 20
A Story on Tom McBrayer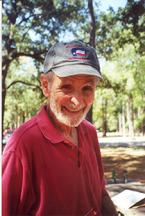 Measurement News is a publication that's been around for years. It's audience is mainly measurers, certifiers, and officials in the world of course measurement in the U.S. as well as abroad — a relatively small group of people. The 2006 summer issue featured several long-time regional and state certifiers, among them Tom McBrayer who has been measuring courses since 1984 and Texas Regional Certifier since 1988. It's a nice tribute to these guys who devote a lot of time and energy to seeing that the courses we run/walk are the legitimate distance.

Tom was born in Kentucky, but Houston has been his home since moving there in 1942. In 1954 Tom graduated from University of Missouri School of Mines with a BS in Metallurgical Engineering. "I returned to Houston for a job with a steel company and, except for a two-year military stint, I spent my entire working career there." You can catch Tom you see him reading a book about the Civil War or WWII while listening to some "straight ahead" jazz. Tom has been a card-carrying member of the USATF since there has been an organization called USA Track & Field. "And before that, I was a member of TAC, The Athletic Congress, and AAU, Amateur Athletic Union, before that. My membership dates back to the early 1970's when you had to have an AAU Card to run in a sanctioned race.", Tom says proudly. The Houston running scene has been the beneficiary of Tom's ongoing steadfast involvement since the 1960's. At the first Houston Marathon in 1972, Tom ran the five loop course and made time to volunteer before and after the race. Tom remained a regular fixture on the Houston Marathon Organizing Committee through 1998. Since the very first meeting of the Houston Masters Sports Association, which was formed in 1975, Tom has been a dynamic member - even held the president's office for a two-year term. Tom and wife, Mary Anne, married for almost 48 years, were founding members of HMSA and have collectively written and published HMSA News monthly newsletter since 1976. They both continue as firm anchors on the HMSA Advisory Board. Even with the many hours volunteering, Tom and Mary Anne, made time to have five children—nowadays they are very proud grandparents. Through the end of 2005, an astounding 483 courses have been measured by Tom since he first got into measuring courses for USATF Certification in 1984. Before 1984, Tom served his measurer's apprenticeship under George Kleeman, the Houston Marathon director, learning to measure using the "count the spokes" method. Like most early course measurers, Tom's paperwork and documentation was always submitted to Ted Corbitt for his final stamp of approval. In 1988 Tom was appointed as Texas Regional Certifier. Since that time, and through 2005, Tom has approved and certified 2026 courses. The lion's share of courses Tom has certified to be accurate have come from the big state of Texas, annually approximately 120 per year. For 10 years Tom also acted as the Louisiana Regional Certifier from (1990 until 2000) when he passed the reins over to fellow Texan, John Ferguson. Course measurers in Texas and Louisiana have come to expect Tom's Measure Up newsletter in their mail boxes 3 times a year. In 1992 Tom would take on the added role of RRTC Vice Chair West position, which he held until 2004. In 1989, Tom, Mary Anne, and the company of other volunteers took on the idea to create a "how-to" course measurement video. At the 1992 USATF Annual Meeting the finished video was distributed. With a grand idea to demonstrate course measurement techniques, some experience with the video camera, and access to a film studio, Tom and Mary Anne wrote the script and went off to the park to film. Tom says the video "first sold $7.50, postage included. The second version came out in 2001, still on video and sells for $10. The next version, if there is one, should be on CD." Measuring courses isn't always all seriousness. Tom tells us "he had just finished measuring a course in downtown Houston around 5 am (most of my measuring is done at night because of traffic considerations) when I noticed a lot of activity in the Theater District. All the boom trucks, vans, lights, sound systems were involved in the filming of movie, likewise being done at night because of traffic. The movie turned out to be Robo Cop II. Dressed in my bike helmet, glasses, gloves, reflective vest, I was an interested spectator. That was when someone came up and asked, "Are you a stunt man?"

USATF/RRTC—http://www.rrtc.net/ - Measurement News Summer 2006 Issue 132 Page 20