Club Activities
We all came together because of our love of running. That sport can be a tough master if you're competitive. And many of our runners are but, as we said, with HMSA, it's participation that counts. Here are some of our major activities and they do draw a crowd. Have a look at the pull-down menu on the left.
The Bayou City Classic
In the spring of each year members look forward to this fun-filled event. One of the best things about it is that it gives members the opportunity to plan and work ahead to make award winning costumes for the centipede competition. HMSA always has the most original and well executed design. Runners must be joined and run the race together — the centipede! Two of our best costumes designs appear. The St. Arnold's six-pack was our first design. That and the LifeSavers are two of our best. We'd love to have you join us.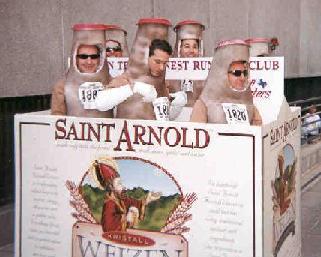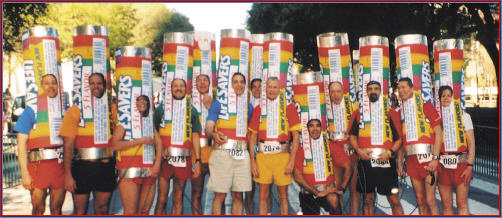 Celebrations!
HMSA holds four major events during the year. Our Spring Awards Banquet comes at the beginning of May, which is also pretty much the end of running season in Houston and time to honor our active bunch of members. This one is a checkered tablecloth affair, as opposed to the more casual setting of our December Holiday Party which also serves as a thank you for our 25K volunteer force. The menus are sumptuous and plentiful at this sit-down dinner. Our Holiday Party gives us the occasion to contribute to the Seasons. There is an entry fee — a child's toy or a warm clothing item. We collect almost a hundred items and they are donated to one of Houston's shelters for children. Pictured are David Holloway and Joe DeBruyn who along with German Collozas are the official planners of our events. To celebrate the opening of the fall running season, members gather for a Pool Party at the home of one of our members. It's a pot-luck affair and a gathering of the clan after the summer hiatus. Lest you think we're all about parties, these events also serve as meeting time. Business is conducted at each and elections are held at the spring banquet. We invite you to join us and join the fun.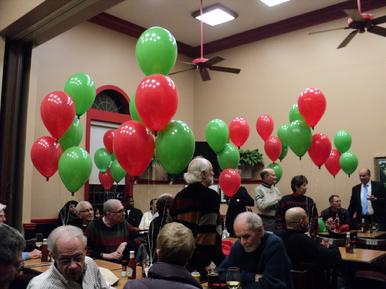 HMSA Classical 25K
November is the month! For over 20 years, HMSA has put on the 25K event of the Marathon Warm-Up Series, a series of three races leading to the Chevron Houston Marathon in January. Distances are gradually increased as the runner trains for the big event. And volunteers are needed — before, during and after the race. So there's room for everyone to help. It's a great opportunity to meet fellow club members. Contact us at hmsa@houstonmasters.org.