SEF Arts Fest 5K & Hometown Heroes 1K Fun Run
Piner Middle School
402 W. Pecan
Sherman, TX 75090
United States

Saturday, September 16, 2017
8:00 AM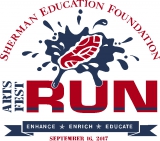 The SEF Arts Fest Run offers the popular 5K Run and introduces the first-ever Hometown Heroes 1K Fun Run. Participants in each event will be joined by Sherman's Finest - members of our outstanding police and fire departments. This year's energizing Wrap-Up Party will celebrate the event with music and movement, and the opportunity to visit with police and fire personnel. Fire trucks, military vehicles, and police vehicles will be available for some hands-on activities for the kids!
The 5K begins and ends at the corner of Rusk & Laurel Streets, includes a water station and is USATF certified. The Hometown Heroes 1K Fun Run is a totally fun activity intended to include family and friends of all ages.
Cash Awards & Prizes provided to top male and female finishers of the 5K for 1st Place Overall, 1st Place Master (40+), 1st Place Grand (50+), 1st Place Senior (60+).
Top three finishers in each age group receive awards.
Age Groups: 9 & Under, 10-14, 15-19, 20-24, 25-29, 30-34, 35-39, 40-44, 45-49, 50-54, 55-59, 60-64, 65-69, 70+
Early registration ends on 9/8. Fees are as follows: $25 Individual & $20 Group. Pricing increases to $30 Individual & $25 Group from 9/9 through 9/15. Fees increase $5 on race day.
REGISTER EARLY!!!!
Sorry! Online registration for this event is now closed.
IF YOU WOULD LIKE TO PARTICIPATE, YOU CAN DO SO DURING EARLY PACKET PICK-UP ON THURS & FRI, SEPT 14 & 15, AT THE SHERMAN ISD ADMIN BLDG BETWEEN NOON - 6PM!!
Please check event website for more details. Thanks!